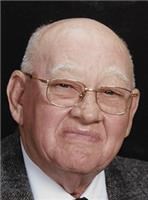 Clarence Emanuel Overholt, age 89, of Sturgis, passed away early Wednesday morning December 16, 2020 at his home.
He was born May 9, 1931 in Nottawa Township, son of the late Eli and Polly A. (Miller) Overholt.
Clarence was a lifelong Sturgis area resident.
On May 21, 1952 he married Edith R. Bupp in LaGrange. She preceded him in death January 4, 1989. He married Blanch Hallett May 1, 1990 in Burr Oak.
Clarence retired from Sutton Tool in Sturgis following many years of dedicated employment.
He was a member of the His House Foursquare Church in Sturgis and the National Rifle Association. He enjoyed fishing, hunting and was a talented woodworker. Clarence loved time with family, especially his grandchildren.
He is survived by wife: Blanch; one daughter: Nancy (David) Rank of Nottawa; two grandsons: Randy (Sidney) Rank of Three Rivers and Tim (Stacey) Rank of Zeeland; three great grandchildren; one step-daughter: Victoria (Ronald) Overholt of Three Rivers; five step-grandchildren: Angela (Dustin) Jasper of Sturgis, Jason (Megan) Overholt of Kentucky, Clarice (Daniell) Green of Centreville, Austin (Tia) Brooks of Sturgis and Derek (Jessika) Brooks of Constantine; 20 step-greatgrandchildren; one sister: Irene Troyer of Sturgis and many nieces and nephews.
He was preceded in death by his parents; wife; one son: Jerry Overholt; one sister: Kathryn Mast and two brothers: John Overholt and Kenneth Overholt.
The family will receive friends from 2:00 to 4:00 and 6:00 to 8:00 P.M. Monday at the Hackman Chapel of Hackman Family Funeral Homes, 114 S. Nottawa St., Sturgis, MI 49091, 269-651-2331. Private services will be held on Tuesday. Pastor Doug Carr of His House Foursquare Church will officiate. Private burial will follow the service at Oak Lawn Cemetery in Sturgis.
The family suggests those wishing to make a memorial donation in Mr. Overholt's memory consider the Living Hope Foursquare Church, 410 S. Clay St., Sturgis, MI 49091.
The obituary is also at www.hackmanfamilyfuneralhomes.com where we encourage relatives and friends to share memories and leave condolences for the family.