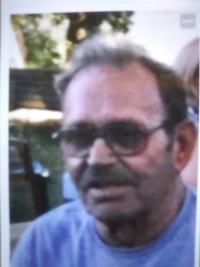 Danny Leroy Caseman, age 81, of Altha, Fla. passed away peacefully at his home surrounded by family on Monday, Nov. 23, 2020. He was born July 31, 1939 to parents, Lloyd and Marian Caseman in Constantine. Danny worked in construction, RV manufacturing and as a custodian/maintenance man. He loved his family, the outdoors and watching sports, especially boxing.
He married Joanie Palenick on Oct. 17, 1959. Surviving daughters Lisa (Norm) Bishop of Middlebury, Lori (Gary) Hall of Three Rivers, and Leslie Emery of Three Rivers. Surviving grandchildren Elizabeth Wojtysiak, Nicholas Caseman, Taylor Hendrix, Tarynn Grove, Dr. Jacklyn Sylvain and Shane Emery.
He is survived by his loving wife of 39 years Dana Caseman of Altha, Fla. and surviving children Chris Leupp of Middlebury,  Cinamon (Steve) Daniels of Pace, Fla., Leslie Harris of Crestview, Fla. and Kelly Neel of Altha, Fla. Surviving grandchildren Corey Leupp, Mason Neel, Haley Payne, Mathew Harris, Alex Harris, SN Timothy Harris, Cody Badger and Cole Badger, 18 great-grandchildren, two sisters Bonnie Caseman of Sturgis and Sandra Caseman of Sturgis. He was preceded in death by his parents, brothers Carl and Howard, sister Nancy Preston, nephews Jeff and Charles Caseman and grandson Michael Badger.
Private celebration of life has taken place. Donations can be made in his name to St. Jude Children's Research Hospital at P.O. Box 50, Memphis, TN 38101.