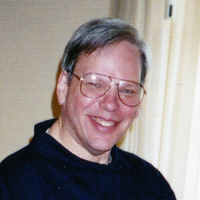 Third generation Three Rivers resident David Bartling O'Dell passed away Thursday, December 3, 2020 at age 68, from the COVID-19 virus, compounded by colon cancer. He had resided at Heartland Health Care Center since 2017 to receive care as a paraplegic, despite having lived stolidly and independently for years as a polio survivor. A graduate of Three Rivers High School (Class of 1970) and Eastern Michigan University (BA 1974), O'Dell was a long-time employee of Armstrong Machine Works (now Armstrong International, Inc.). He worked in sales and on the assembly line until his early retirement due to health problems.
O'Dell's life both began and ended in the middle of historic pandemics.  Born in Three Rivers on June 10, 1952, O'Dell was a two-month-old infant when he and his mother were paralyzed by poliomyelitis in a nationwide pandemic, just months before the pioneering Salk vaccine was released. On December 3, 2020, O'Dell succumbed to the deadly Coronavirus amid a global pandemic, just weeks before the anticipated distribution of a protective Pfizer vaccine.
David O'Dell is predeceased by his grandparents Dr. John H. and Coral Winifred O'Dell; uncle Dr. John "Jack" O'Dell, and parents Dr. Charles "Bill" and Katherine (Bartling) O'Dell, Sr. all of Three Rivers; and brother Dr. Charles "Chuck" O'Dell, Jr. of Battle Creek.
He is survived and will be greatly missed by his sister and brother-in-law Frances (O'Dell) and Ladd Baumann of Guam, USA; sister Martha O'Dell of Kalamazoo; and sister-in-law Sally O'Dell Verkleeren of Poway, CA. He also is survived and remembered as a loving uncle by two nephews, Alexander O'Dell of River Forest, IL and Matthew O'Dell of Kansas City, MS; two nieces, Lesley (Baumann) Crafton of Las Vegas,NV and Gabrielle (Baumann) Adams of Milwaukee, WI; and their respective spouses and 14 children.
In keeping with his requests, David O'Dell will be cremated and buried at Riverside Cemetery in Three Rivers.  There will be no funeral in light of the continuing COVID pandemic. However, friends and family are invited to share their memories and condolences on the website hosted by Eickhoff Farrand Halverson Chapel at http://www.efhchapel.com.
According to his sister Fran Baumann, "The O'Dell family wishes to thank all the brave and compassionate caregivers at Three Rivers Hospital, Borgess and Bronson Hospitals in Kalamazoo, and Heartland Health Care Center of Three Rivers for the expert care they gave David over the years and during the COVID pandemic." "My brother, David, had a physically challenging life," says Baumann. "The polio and COVID pandemics were like bookends on his life, with a succession of strokes, illnesses and injuries in between. Still he coped and persevered.  When he was younger, David enjoyed playing pool and poker and golf, and he taught his nieces and nephews to do all three!"
"We will treasure those memories, and we are comforted by the belief that David has passed onto a better place in a new life," adds Baumann.