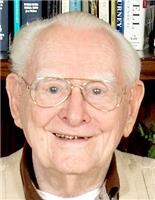 Donald Mills, age 98, of Sturgis, passed away on Monday, Dec. 7, 2020.
Mr. Mills has three children, Donna Howard, David Mills and Ken Mills. Ken, a long-time Sturgis resident and his wife, Karen, have three sons, Kevin, Kyle and Kameron, who grew up in Sturgis and have four children. Donna has a son, Daniel.
Don proudly served as a pilot in the U.S. Army Air Corps during World War II and near the end of the war married his wife of over 70 years, Catherine.
During his 40-year career with General Motors, he worked as an engineer when GM Tech Center in Warren was established. He later became a manager in the manufacturing development division. He and his staff recorded many innovative patents from their research, including the "Lost Foam" casting process used in engine blocks and other metal castings.
Mr. Mills was highly active in the Methodist Church in Royal Oak, Stanwood and Grand Rapids. He served as a Sunday school teacher as well as sang in the choir. He attended the Missionary Church while living in Sturgis the last three years, after moving from Grand Rapids.
Don loved introducing his family to outdoor adventures of hiking, skiing and camping. He also enjoyed hockey, golf and spending time with family.
Due to conditions of the COVID-19 pandemic and limitation of gatherings, a memorial service will be held at a later date.
Hackman Family Funeral Homes of Sturgis is entrusted with arrangements.
The family suggests those wishing to make a memorial donation in Mr. Mills' memory consider
Youth for Christ of Southwest Michigan, P.O. Box 382, Sturgis, MI 49091.
His obituary is also at www.hackmanfamilyfuneralhomes.com, where relatives and friends may share memories and leave condolences for the family.