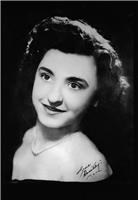 Dorothy D. Leeper, age 86, of Burr Oak, passed away Tuesday, Dec. 22, 2020. Dorothy has been a resident of Burr Oak since 1994, previously residing in Northwest Indiana.
Born an only child to her parents on August 24, 1934 in Johnson City, IL, Myrtle and Juel King, she had a wonderful upbringing for a child during that era. Her mother and father made sure she had the best luxuries that they could afford. Her father adored her and called her "the prettiest girl in 48 states."
As a young girl, her photo appeared in a popular photography shop and a young man named Ray Leeper used to walk by and admire her photo. Later, he would meet her and eventually, they would marry in Burr Oak on November 22, 1972. Ray walked into Heaven on February 18, 2010.
Dorothy attended Tolleston High School, in Gary, IN. Dorothy later went on to study and complete programs at colleges that mostly related to management and leadership skills. She worked as a bartender, an activities and residential coordinator in nursing homes in Indiana and was a member of the Indiana Health Care Association. After retirement, Dorothy continued to work part time in private nursing care.
Dorothy loved holidays, babies, animals, cooking, shopping, gardening, camping and writing. She birthed five children into this world, and always had their back, no matter the circumstances. She did her best to teach them the values of hard work, generosity and perseverance while putting family first. She taught her grandchildren the importance of having "thick skin" and being able to be direct with conversations. She was very protective and loving.
Dorothy had many dear friends and loved ones She especially adored her daughter Jeanne (the late Dennis) Root, sons Michael and Edward (Pam) Strudas. I know that it warmed her heart to be tended to by her family. They made sure that her last years were spent in her own home, and that Dorothy could be as independent as possible, stopping by as often as she called them to help her. In addition, she is also survived by (12) grandchildren and (10) great grandchildren.
Dorothy's final day consisted of being surrounded by family. She was accompanied by her daughter (Jeanne) and granddaughter (Jena). She received telephone calls from both her sons and her great granddaughter Brooklynn. Her last view of this side of Heaven was looking into the eyes of her grandsons Cass and Cole, as they held her hand while she walked ahead peacefully into the bliss of Heaven on December 22, 2020 at Maple Lawn Medical Facility for physical rehabilitation in Coldwater. Welcoming her to Heaven to celebrate her first Christmas there were her parents, husband Ray, Uncles and son-in-law Dennis Root, and a host of friends.
Dorothy shared in her written final wishes that she would like people to just give an elderly person a hug or do "just a little something" for them, because those little things meant so much to her. The dash between the dates of our birth and death are filled with little things that make the best memories. A kind word, a gentle hug, a surprise visit or phone call are all ways to make someone's life better. When you think of Dorothy, honor her wish. You can touch a life in ways that will make a difference far greater than you will ever realize.
If you would like to make a memorial donation in Dorothy's memory, she would appreciate a nod to St. Jude Children's Research Hospital, or to The Dennis Root Memorial Fund.
According to her wishes, cremation has taken place. Due to the current COVID-19 pandemic and restrictions, a private service will be held on December 30th with Pastor Justin Shepard, officiating. However, Dorothy's friends and family can still be there in spirit and thought during the pandemic restrictions. The family has chosen "Balloons for Dorothy" as a way to express your condolences. Anyone desiring to do so may send a text message to the funeral home, (269-651-2331) write a post at www.hackmanfamilyfuneralhomes.com, or send a message to one of the family's Facebook pages. Their message will be delivered to the family, and a balloon with the message will be present during Dorothy's service.