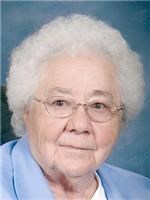 Helen C. Neff, age 93, of LaGrange, died Tuesday, Dec. 15, 2020, at Miller's Merry Manor in LaGrange.
She was born Sept. 12, 1927, in LaGrange County, to J. Elmer and Rosa Ann (Yoder) Miller.
Helen was a homemaker and a longtime member of Shore Church in Shipshewana. She enjoyed doing many church activities and volunteering at LaGrange County Food and Clothes Basket.
On March 12, 1949, she married Wayne R. Neff in LaGrange. Wayne preceded Helen in death Aug. 9, 2019.
Surviving Helen are her three daughters, Sherrill (Barry) Sturgis of LaGrange,  Jean (Tim) Bontreger of White Pigeon and Nancy (Dennis) Funk of Greer, S.C.; four sons, Delmer (Barb) Neff of Sturgis, Robert (Michele) Neff of LaGrange, Richard (Kathy) Neff of Rockwell, Texas, and Keith (Jennifer) Neff of Howe, Ind.; 20 grandchildren; 49 great-grandchildren; four great-great-grandchildren; a sister, Rosalie Yoder of Topeka, Ind.; and a brother, DeWayne Miller of Elkhart, Ind.
She was preceded in death by her parents; her husband, Wayne; seven sisters; and eight brothers.
Funeral services will be held at 10 a.m. Friday, Dec. 18, 2020, at Shore Church,7235 W 100 N, Shipshewana, Ind. Pastor Carl Horner will officiate and burial will take place in Shore Cemetery, Shipshewana.
Visitation will be held from 6 to 8 p.m. Thursday, Dec. 17, at Frurip-May Funeral Home, 309 West Michigan St., LaGrange, Ind.
Memorials may be contributed in Helen's memory to Gideons.
Online condolences may be submitted to the family at www.fruripmayfuneralhome.com.