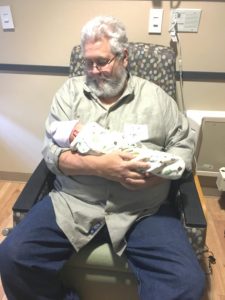 James Joseph "Jim" Rockelein, age 67, of Leonidas, died Monday, Dec. 7, 2020 at Heartland Healthcare in Three Rivers following a five-year illness. He was born in Sturgis, on Oct. 6, 1953 the son of Joseph L. and Alice Marie (Kelly) Rockelein. He was a lifetime resident of St. Joseph County and graduated from Colon High School with the class of 1972. Jim was a life-long farmer, a 4-H leader with the Leonidas Do-Best group, and was the Swine Superintendent at the St. Joseph County Fair for several years. As a dedicated farmer, he enjoyed the rare opportunity to travel.
Jim was married to Sally R. Young on Aug. 16, 1986 in Constantine. She survives along with three daughters, Jessica (Kevin) Wayne of Climax, Maggie (Jim) West of Fremont, IN, and Mychael Rockelein of Leonidas; two step-sons, Jason (Kelly) Munson of Constantine and Joshua Munson of Leonidas; three grandchildren, Madison Munson, Quinn Wayne, and Charlie Wayne; six siblings, Ronald (Amelia) Rockelein of Portsmouth, NH, Kenneth (Constanza) Rockelein of Duluth, GA, Jean Ann (Mark) Bankhead of Battle Creek, Mary Ellen Tompkins of Vicksburg, Karen (Chris) Lucas of Colon, and Karol (Perry) Kirkham of Centreville; and by many nieces and nephews. He was preceded in death by his parents; brother, Robert Rockelein; mother-in-law, Mary Young and father-in-law, Ray Young.
In keeping with his wishes, cremation will be conducted and no ceremony is planned at this time. The family will receive friends from 3 to 7 pm on Saturday, Dec. 19, 2020 at the Eickhoff Funeral Home in Mendon. COVID precautions will be observed and attendance limited to no more than 25 at a time. It is suggested that memorial donations be directed to the Polycystic Kidney Disease Foundation at pkdcure.org. Memories and condolences may be shared at www.eickhofffuneralhome.com.