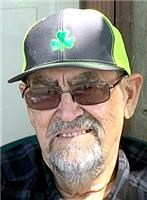 Keith Allen Shultz, age 77, of Howe, Ind., passed away Tuesday evening, Dec. 22, 2020, at his home, surrounded by his family, after a hard-fought battle with bone marrow cancer.
He was born Feb. 15, 1943, in Angola, a son of the late Albert and Letha (Grove) Shultz.
Keith resided in the Howe and Brighton, Ind., area most of his life, and was a graduate of Bronson High School with the class of 1962.
On Aug. 26, 1962, he married Norma Jean Northup in Ashley, Ind. She preceded him in death June 27, 2016.
Keith retired from Spreuer & Sons in LaGrange, following 22 years of dedicated employment. He also had spent 10 years at Coachman Industries and worked at Motor Wheel Company. Keith was a talented woodworker and for several years Keith and Jean owned and operated Kountry Junction Collectibles, traveling throughout the Midwest to craft shows and flea markets. In retirement, he worked many years seasonally for the city of Sturgis in the parks and cemetery department, a job he truly loved.
He was a past member of Brighton Chapel. Keith enjoyed his home on the river, porch sittin', bird-watching, fishing, hunting and was an avid gardener. He cherished time with his family and will truly be missed, as well as his homemade ice cream.
He is survived by a daughter, Colleen (Steven) Hackman of Sturgis; a son, Weston Shultz of Battle Creek; five grandchildren, Christopher Hackman of Sturgis, Bethany Hackman of Chicago, Alyssa (Nick) Fox of Rome City, Ind., and Isaac Shultz and Elijah Shultz, both of Battle Creek; a sister, Rosemary (Donald) Kyle of Middlebury, Ind.; and several nieces and nephews.
He was preceded in death by his parents; his wife; two brothers, LaVere Shultz and Cleon Shultz; sisters-in-law Marjorie Shultz and Janet Shultz; and a nephew, Scott Shultz.
Private visitation took place Saturday, Dec. 26, 2020, at Hackman Chapel of Hackman Family Funeral Homes in Sturgis. A private graveside service and burial followed at Greenlawn Cemetery in Orland, Ind.
The family suggests memorial donations to Parkview Noble Hospice. 1836 Ida Red Road, Kendallville, IN 46755.
His obituary is also at www.hackmanfamilyfuneralhomes.com, where relatives and friends may share memories and leave condolences for the family.