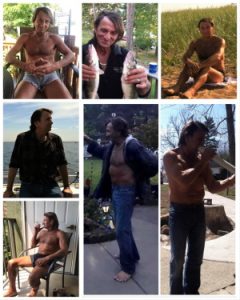 Martin (Marty) Gubecka, age 57, died on Monday, December 21, 2020.  He left us suddenly of a pulmonary embolism causing a full arrest of his heart. Leave it to our Marty to steal the show from a historic celestial event, he would get a good chuckle at that. He was born in Pancevo, Serbia (Former Yugoslavia) on October 9, 1963. His family migrated when he was three years old to Australia. Before boarding the plane, he was given a coin which he dropped in the snow causing a stir as he searched for it refusing to get on the plane without it. He became Australian proud and true. He was "larger than life" when it came to his heart, work ethic, loyalty, humor, and colorful speaking style. His family was the biggest thrill of his life. He is survived by his soulmate and best friend, wife Alaina Gail (Browning). They enjoyed life in both Australia and America. They did not do the "step" thing and enjoyed the love of a blended family. Marty is survived by his children, youngest to oldest:
Joshua (Melissa) Wallan, Victoria, Australia
Crystal, Queensland, Australia
Valerie (Justin) Taylors, SC USA
Jeremy (Keli) Constantine, MI USA
Destiny (Carl) Taylors, SC USA
If he got an opening to talk about any of them, he would beam with pride for he was proud of each of them. He is also survived by his Grandchildren: Claire, Sebastian (Ellie), Jacob, Maya, Cory, Viana, Dathan, Boston, Tyson, Lily, Lena, Penelope, and Elijah. They were his legacy. He said "They are my true treasure". He enjoyed every moment whether it was being silly with one, en masse in a minivan "chocker-block full" for an adventure, or video calls with them chatting happily. He would drop everything for those moments and each one of them knew his love for them was endless.
Marty worked as a professional painter for most of his life until a fall ended his career. That didn't stop Marty, he challenged himself every day. He was a true battler. He could dress up and rub shoulders with the wealthy and most influential and did on many occasions (even though he never completed school). He was brilliant and always learning new things. You loved him or you didn't (if you didn't, you still admired the man he was). He loved and would give you the shirt off of his back (if he was wearing one) but he was usually found wearing cutoffs, no shirt or a bluey, and no shoes. If he wore shoes it was because it was required by law – for work, shopping, to be in the snow, or something important was happening. It was the same in both countries as both were home. To our Marty everyone was a potential friend and he was the consummate host; "How ya going? Can I get you a drink?" and a ready conversation usually occurred. If you spent time with him you were bound to hear, "Hey Ho He Hey", "stop carrying on like a pork chop", "this place is a brothel", "there will be tears", "in my world…" "talk to the Boss", or "BE TOLD" (which usually started an argument). Everyone knew he had a stash of good chocolate that you might just get lucky to get some of! To get him to sit still for a good picture you would hear "What you going on about, I ain't going to jail, you don't need a mugshot" followed by laughter. He loved his life on the river, He would spend hours on the deck, fishing, sitting, and enjoying all who cared to join. Most all were welcomed into his kingdom and he had ready advice whether you wanted it or not because he genuinely cared.
Marty is survived by his parents Marci and Marie Gubecka of Queensland, Australia who taught him his work ethic and that family always comes first.
He is also survived by his siblings Marie, John, Joe, Ondrej (Teresa), and Paul whom he loved dearly and had stories of their lives together that he never got tired of sharing.
Vast in-laws, Aunts, Uncles, Cousins, Nieces, Nephews, Great Nieces and Nephews, adopted family and friends too numerous to mention one by one, but loved dearly.
And Holly his beloved dog.
Marty was and will remain the most vivid man of honor many of us will ever know and our lives are blessed to be in his circle.
Marty preplanned his final arrangements years ago and Alaina is honoring that. He will be cremated with a memorial service. Due to current conditions, the service will be held when we can gather and send him off the way he envisioned it; with sunshine, stories, a cold drink, and the children's laughter all around us.
In lieu of flowers, memorial contributions can be given to the family.   Arrangements were entrusted to Eley Funeral Home, Constantine.  Please visit www.eleyfuneralhomes to sign Marty's online guestbook and to leave messages for the family.