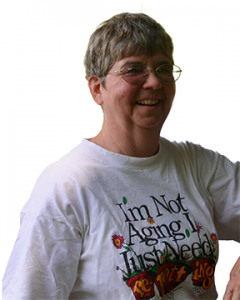 Patricia Diane Kline died peacefully at her rural Mendon home with loved ones near on Tuesday, Dec. 15, 2020 after a short battle with ALS. She was 75 years old. Pat was born on May 22, 1945 to Grace (Brown) and John Jacob Kline. She grew up in St. Joseph County, Michigan, graduated from Colon High School in 1963, and later earned a Bachelor of Science from the University of Michigan, and a Masters Degree from both Western Michigan University and Central Michigan University. Pat played the coronet in the marching band in high school and she often proudly told of marching on the field at a University of Michigan football game.
Patricia spent several years as a Residence Hall Director at what was then Ferris State College in Big Rapids. She then moved to West Virginia where she spent almost 25 years working at West Virginia State College in the Counseling and Careers offices. Pat loved the people of West Virginia and made many friends during her time in her adopted state. She loved to share the natural beauty with her family when they visited her, taking them over the hills and down into the hollers.
In 2002 Patricia retired from WVSC and moved back to Michigan to help care for her mother. She spent hours working in her flower gardens and was a member of the Sherwood Garden Club. She was active in the United Methodist Church and was a member of both Brown United Methodist in Charleston, WV and later the Mendon United Methodist Church. She helped found, and spent many hours helping run the Building Hope Free Store in Centreville where she lived her faith by helping others who were in need. She was a mentor for children in the Mendon Public Schools, and she was a member of the Colon Grange #215.
Pat loved to travel, including an epic journey to Egypt where she got to ride a camel! For may summers she accompanied her brother, Murray, on camping trips out west, along with whichever of her nieces or nephews were old enough to tag along on these grand adventures. She was a special aunt to three generations of nieces and nephews. At the time of her death, she was working on writing a history of the Brown family with the working title of Grace Brown Kline: The Last of the Birth Right Family Quakers.
Patricia is survived by her sisters, Margaret Binns, Linda Waltz, and Mary Beth Bower; eleven nieces and six nephews; many great and great-great nieces and nephews; as well as dear cousins. She was preceded in death by her father and mother; two sisters, Florence Pope and Jeanette Jupp; and by two brothers, Harold Kline and Murray Kline.
There will be a celebration of Patricia's life at a later date when COVID restrictions have been lifted. It is suggested that memorial donations be directed to either Colon Grange #215, Mendon Food Cupboard, or a charity of your choice. Memories and condolences may be shared at www.eickhofffuneralhome.com