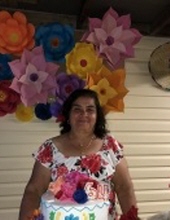 Rufina Arroyo, age 65, passed away peacefully on Tuesday, Dec. 15, 2020.
She was born Aug. 26, 1955, to Antolina and Ezequiel Jaramillo.
She married Daniel Arroyo in 1970 and they had seven children, Genaro, Maricela, Armando, Maria, Yesenia, Daniel and Tanya. A beloved wife, mother, grandma, great-grandma, sister and friend. We lost an amazing woman, but God has gained a beautiful Angel. She will be deeply missed, but forever in our hearts.
The family will receive friends and relatives from 4 to 8 p.m. Thursday at Holy Angels Catholic Church, where a prayer service will be held at 7 p.m. Funeral Mass celebrating her life will be held at 1 p.m. Friday at the church, with interment to follow at Oak Lawn Cemetery.
Her obituary is also at www.hackmanfamilyfuneralhomes.com, where personal messages of support may be left for the family.