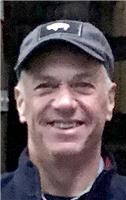 Stephen Robert Downs, age 61, went home to Jesus on Saturday, Dec. 5, 2020.
On Dec. 9, 1958, Stephen was born in Hillsdale, to the late Robert and Marjorie (Purdy) Downs.
Steve was previously married to Elizabeth (Frisbie) Barrington of Colon, and had four children.
On June 20, 1992, Steve married Diane Mallen of Colon.
Steve Downs was a lifelong member of the Colon community, part of the graduating class of 1977. He was a past member of the school board, was "Voice of the Magi" for many years, helped to found the tee-ball program and many other contributions. He loved spending time with his children and grandchildren and creating many cherished memories. Whether he was road-tripping to sporting events, helping with projects around their homes, or baking thousands of Christmas cookies, he was always quick to spend time with family, and share a joke. Many knew of his love of the St. Louis Cardinals and quoting movies.
Steve is survived by his loving wife of 28 years, Diane of Colon; children Michael (Jamie) Downs of Three Rivers, Andrew Downs of Colon, Christopher Downs (Kayla Robbins) of Laramie, Wyo., and Rebecca (Ryan) Peterson of Kitty Hawk, N.C.; stepchildren Bryan Mallen of Colon, Robyn (Michael) Wigdzinski of Geneva, Ill., and Brittany (Andrew) Fuller of Geneva; 22 grandchildren; two great-grandchildren, with one on the way; siblings Jim (Cheri) Downs of Farmington Hills, Bruce (Joyce) Downs of South Bend, Ind., Cathy (Rex) Wattles of Bronson and Gail (Brad) Hartman of Colon; and many nieces, nephews and countless others who have become loved members of our family over the years.
Stephen was preceded in death by his parents.
Following Stephen's wishes, cremation will take place. The family will hold a private memorial service at 1 p.m. Thursday, Dec. 10, at Schipper Funeral Home. Due to the current pandemic, the funeral home will offer a Facebook live viewing of the services for the public to join. Interment will take place at a later date, when the public can attend.
Facebook live details: Stephen R. Downs Memorial | Facebook
In lieu of flowers, the family asks memorial donations be made to the animal rescue fund of your choice. Online condolences may be left for the family at Schipperfuneralhome.com.