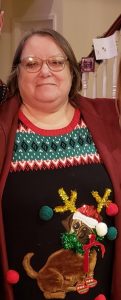 Beverly D. Whitney, age 63, of Mendon, died unexpectedly on Sunday, Jan. 3, 2021 at her home. She was born in Sturgis on Dec. 22, 1957 the daughter of Charles A. and Lena (Yurkovich) Hinchen. She graduated from Mendon High School in 1976 and earned her Associates Degree at Glen Oaks Community College. Bev was married to Robert L. Whitney on Oct. 30, 1976 in Three Rivers, and they have resided in Mendon since their marriage. She worked at Community Mental Health in Centreville before establishing Little Tykes Day Care in Mendon, which she operated for fifteen years. She later worked at The Meadows Adult Foster Care Home in Mendon.
Bev was a member of the Light & Life Wesleyan Church in Three Rivers where she taught Sunday School, and assisted with the Youth Group at the First Baptist Church in Three Rivers. She enjoyed, cooking, baking, camping, and all things Disney. She was a crafter, and attended Michigan craft shows with her scented soaps and candles.
Beverly is survived by her husband, Bob; three sons, Jason (Lindsey) Whitney of Hamilton, Eric (Jamie Thomas) Whitney of Sturgis, and Joshua (Andrea) Whitney of Three Rivers; ten grandchildren, Hunter, Haley, Madison, Memphis, Lena, Mason, Keira, Bryson, Caiden, and Carson; one great-grandchild, Bailey; two sisters, Nancy (Walter) Faykus of Cambridge, OH and JoLynn (Chuck) Radloff of Virginia Beach, VA; many nieces, nephews, and in laws. She was preceded in death by her parents; and by five brothers, Terry Hinchen, Charles Hinchen, Frank Hinchen, Billy Williams, and John Yurkovich.
In keeping with her wishes, cremation will be conducted. The family will receive friends from 4 to 6 pm Friday, Jan. 8, 2021 at the Light & Life Wesleyan Church, 15765 Hoffman Rd., Three Rivers, MI 49093. Memorial services will be 11 am Saturday at the church with Pastor Sam Maddox officiating. COVID distancing and masks will be required at all times. A recording of the service will be available on the funeral home website later in the day. Memories may also be shared with the family at www.eickhofffuneralhome.com I
It is suggested that memorial donations be directed to St. Jude Children's Research Hospital at www.stjude.org Envelopes will also be available at the church.