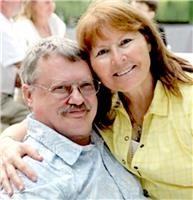 Chuck Hamlin of LaGrange, and formerly of Sturgis, passed away Monday, Jan. 11, 2021, at the age of 69.
Chuck was born Feb. 14, 1951, in South Haven. He was the son of Harley and Beverly (Wickham) Hamlin. Chuck graduated from Paw Paw High School with the class of 1969. After high school, he married the love of his life, Jeannie Arndt. Together, they raised four sons and he was devoted to his family. For more than 25 years, he owned Hamlin's Harley Davison in Sturgis, until 2007. He served the communities he lived in proudly by working as a reserve for the St. Joseph County Sheriff's Department and LaGrange County Sheriff's Department.
Chuck will be remembered by his family as being quietly passionate, driven, focused, extremely caring and family-oriented.
Chuck is survived by his wife of 50 years, Jeannie; four sons, Charles Hamlin, of Sturgis; Jason Hamlin of LaGrange; Bret (Katie) Hamlin of Sturgis; Kiel Hamlin of LaGrange; and three grandchildren, Blaine, Kiler and Reagan Hamlin. He also is survived by four siblings, Jerry (Becky) Hamlin of Florida, Linda Ranes of Vicksburg, Tom Hamlin of Texas and Rich Hamlin of Arizona.
He was preceded in death by his parents, Harley and Beverly Hamlin; and a brother, Albert ""Al"" Hamlin.
The family will receive extended family and friends 4 to 7 p.m. Tuesday at McCowen & Secord Funeral Home, 409 South Main, Vicksburg. A private family service will be held separately. A public service will be held at a later date. Burial will be held at Plummerville Cemetery in Fennville.
Due to the state of Michigan COVID-19 restrictions, only 25 people will be allowed into the building at a time for visitation. Guests are required to wear a mask and maintain proper distancing from others.
While at www.mccowensecord.com, take time to sign Chuck's guestbook by lighting a candle or sharing a memory with the family. Those who wish may make contributions to the Shriners Hospitals. ?The Hamlin family is being cared for by McCowen & Secord Funeral Home, 409 South Main, Vicksburg.