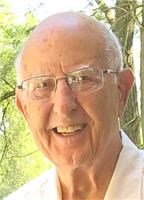 Dr. Charles R. (Chuck, Doc, Ziggy) Zimont passed peacefully on to glory, pre-dawn on Monday, January 11, 2021, at home with his loving wife of 66 years, Joey, by his side.
Born December 22, 1932, in Berwyn Illinois, to Raymond D. and Mary (Soper) Zimont, he dedicated his entire life to learning and taking care of people in his hometown of Constantine.  He was fiercely loyal to his family, his church, Constantine, Wabash College, and the University of Michigan.
Chuck entered kindergarten in Constantine in 1937, and graduated in 1950.  At Wabash College he was center on the football team for two years, and took on the self-proclaimed title of "All-City Center" in high school.  He transferred to the University of Michigan, joined a second family of Phi Gamma Deltas, and in 1957 earned his M.D. degree.  On June 26, 1954, he was married in Constantine to Joelen Cox.  In 1958, after completing his internship at Bronson Hospital, the family moved to Constantine where Chuck became a partner with father Dr. Raymond Zimont.  The father/son team practiced medicine together until 1974, when Dr. Ray retired.  The Zimont Family Practice operated in Constantine until 2007.  He continued to practice medicine through 2018, working for the Sturgis Hospital system, and doing locum tenens (filling in) at other doctor offices, health clinics, and prisons all over Michigan and Indiana.
Doc loved sports medicine.  As team doctor for Constantine High School for 58 years, he was a constant fixture on the sidelines, with Joey in the stands.  Coaches and players often had to calm him down from yelling at the "black hat" referee who missed a call.  It didn't always work, as he was issued numerous yellow flags.  He provided over 17,000 free sports physicals for CHS athletes, as he never wanted anyone to be kept from playing due to the cost.  Hundreds of stories are still being told of Doc tending to injured players, refs, and coaches.  In 2003, his dedication was recognized by being inducted into the first class of the Constantine Athletics Hall of Fame.
Chuck was a tough-guy, who expected a lot from himself.  This toughness was taught to his patients, athletes, friends, and others. What might have seemed like a lack of sympathy, was just him trying to teach, or inspire you to know you could succeed.  Some people did not see eye-to-eye with him, likely because he was so passionate.  After his 2010 open heart surgery at Cleveland Clinic, Chuck became much more expressive of his deep faith in the Trinity, and his love for family and friends.  He loved serving in his church and singing in the choir in many cantatas
Doc's first love was medicine.  He was dedicated to being a family physician, acting as if all of his patients were family.   He delivered thousands of babies, with many stories to tell of the ones he saved.  He loved learning from his patients how to approach and care for them.  In turn, he taught his patients how to care for themselves.  Always a teacher and advocate, for decades he served in many official positions in state and national professional organizations. He had faculty positions with the University of Michigan, MSU, and Wayne State; and at the forefront of establishing the Physician's Assistant program at WMU.  In 1987, he was named the MAFP Family Physician of the year.  He never stopped doing house calls, even after it seemed all other doctors had.
In his family life, Chuck had ceaseless energy in organizing and constructing good times.  Countless hours were spent at home using the pool, big snow-saucer runs, a huge semi-permanent HO track, watching 8 mm family films, and holding an annual Thanksgiving afternoon "touch" football game.  He traveled extensively with Joey, and with family on cross-country camping trips, annual Traverse City adventures, and backpacking.  He always welcomed his kids' friends to join in the fun and trips.  He loved going to U of M football games, being a season ticket holder for many years.
Deeply community-minded, he served as Rotary secretary since 1961, on school boards, hospital boards, national professional organizations, and at Boy Scout camps.  He loved reading novels, planning (and recounting) every last detail of backpacking trips, cross-country skiing, taking thousands of photos and making/posting boards of them on the wall of his waiting room.  The 57 backpacking trips he led were very special to him, and had a significant impact on many youth and adults.  Yōhhhhhhh!!
He was preceded in death by his parents and acquired son George Shoun.  He is survived by wife Joelen; children Cathy Zimont of Constantine, Jeff (Peggy) Zimont of Elkhart, Todd (Sharon) Zimont of Jones, Ben (Kathy) Zimont of Kalamazoo; sister Molly (Howard) Roth of Three Rivers; grandchildren Ryan (Taryn), Adam (April), Michael (Rycca), Courtney, Amanda, Allison (Jordan), and Megan; four great grandchildren; and ten nieces/nephews.
In lieu of flowers please consider making a contribution to the Constantine Area Community Foundation, or the Constantine United Methodist Church.
Friends, patients, athletes, students, and colleagues are encouraged to further honor him by submitting their own written or video story involving Doc, at https://www.eleyfuneralhomes.com/obituary/charles-zimont-md.
According to his wishes, cremation has taken place.  Relatives and friends will be received Thursday, January 14, 2021 at Constantine United Methodist Church from 4:00 to 7:00.  Social distancing guidelines will be followed and masks are required.  Due to current restrictions, a private family service will take place.  Doc's funeral service will be live-streamed for the public to view on Friday, January 15, 2021 at 11:00 AM on the Eley Funeral Home Facebook page.