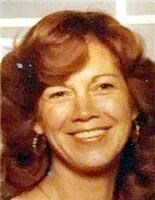 Roberta L. Layson, age 81, of Sturgis, died on Sunday, Jan. 3, 2021, at Miller's Merry Manor in LaGrange.
Ms. Layson was born Sept. 10, 1939, in Detroit, to Catherine (Jewell) Walberg.
Roberta was a homemaker and nanny for many years. She enjoyed spending time with her family and had a special relationship with her sister, Judy and Judy's family.
Surviving are her children, Laura (Larry) Johnson of Sturgis and Joseph P. Layson of Melvindale; a stepdaughter, Karen Cormier of Florida; 12 grandchildren; 14 great-grandchildren; and her siblings, Judith Cragin of Canton, Catherine Kimzey of Melvindale, Patricia Mott of Texas, Albert Kimzey of Texas and Frank Kimzey of Maryland; several nieces and nephews; her aunt Betty; and several cousins.
Preceding Roberta in death were her mother, Catherine Kimzey; a son, Steven D. Layson; two brothers, John Kimzey and Warren Walberg; and several aunts and uncles.
A memorial visitation will take place from 3 to 6 p.m. Thursday, Jan. 7, 2021, at Frurip-May Funeral Home, 309 W. Michigan St., LaGrange, Ind.
Memorials may be given in Roberta's memory to the Miller's Merry Manor activities department.
Condolences may be left for the family at www.fruripmayfuneralhome.com.