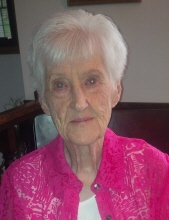 Velda V. Hooley, age 102, of Sturgis, passed away Thursday morning, January 14, 2021 at Thurston Woods Villa in Sturgis.
She was born January 24, 1918 in Elkhart County, Indiana daughter of the late Landon "L.J" and Luella (Johns) Pletcher.
Mrs. Hooley's early life was spent in Middlebury, where she was a graduate of Middlebury High School with the class of 1936. Following her graduation she moved to Shipshewana, and in 1961 to Centreville where she resided until moving to Sturgis in 1984.
On August 14, 1937 she married Lee Andrew Hooley in Middlebury. He preceded her in death December 29, 2008.
She had been employed by Denton Mills in Centreville from 1969 until her retirement in 1981. She also owned and operated with her husband, Hooley Ford Tractor Sales from 1959-1968.
Mrs. Hooley enjoyed sewing and gardening.
She is survived by two daughters: Norma Jean (Arnold) Otto, Jr. of Gridley, Illinois and Janet (Carl) Kinzer of Eureka, Illinois; two sons: Donald E. (JoDee) Hooley of Ocala, Florida and Ronald L. (Kathy) Hooley of LaCrescent, Minnesota; 10 grandchildren; 25 great grandchildren and several nieces and nephews.
She was preceded in death by her parents; husband; son-in-law: Carl Kinzer; foster daughter: Janice Straubel; two sisters: Letha Yoder and Wilma Leinbach and two brothers: D.J. Pletcher and Lester Pletcher.
Due to the current conditions of the COVID-19 pandemic and limitations of gatherings private service will be held at the Hackman Family Funeral Homes in Sturgis. Chaplain Scott Southerland of Heartland Hospice will officiate. A private graveside committal will follow the service at the Shore Cemetery in Shipshewana, Indiana. A memorial service celebrating and honoring the life of Velda V. Hooley will be held at a later date to be announced.
The family suggests those wishing to make a memorial donation in Mrs. Hooley's memory consider Heartland Hospice, 8075 Creekside Dr., Portage, MI 49024.
The obituary is also at www.hackmanfamilyfuneralhomes.com where we encourage relatives and friends to share memories and leave condolences for the family.