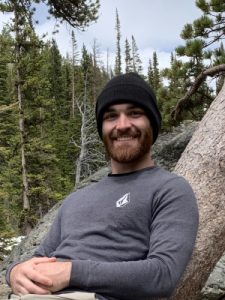 Zachary Justin Shafer, age 25, of Ault, Colorado, went to be with Jesus on Thursday, December 31, 2020 as the result of a motor vehicle accident.
Zachary was born on May 10, 1995 to Justin and Heather (Harshberger) Shafer in Battle Creek. He grew up in Overland Park, Kansas and graduated from Blue Valley West High School in 2013. He then went on to serve his country with dignity and honor in the United States Marine Corps. Zac was studying Wildlife Biology at Colorado State University.
He enjoyed being with family and friends and absolutely loved spending time in the great outdoors. He enjoyed hunting, fishing, hiking, and simply observing the trees and wildlife around him. He also loved baseball and watching the Kansas City Royals.
On December 19, 2015, Zac married Grace Anne Johnson, who shared his passion for nature. They began their adventures together while stationed in Hawaii. There, they enjoyed hiking and exploring the islands together. After serving his time in the military, Zac and Grace moved to Colorado so he could pursue his degree.
Zac was a loving husband, brother, and son, and his loss has left an unspeakable void in the hearts of many. He was a light in everyone's lives with his warm smile, compassionate and gentle nature, and amazing hugs. He will be dearly missed by all.
Remaining to cherish his memory are his wife, his brother Jacob, his mother Heather, and his grandparents Calvin and Ann Harshberger, as well as his many other relatives, friends, and USMC "brothers."
Visitation will be held from 11:00 a.m. to 1:00 p.m. Thursday, January 14, 2021 at Hohner Funeral Home, 1004 Arnold St., Three Rivers. A funeral will follow at 1:00 p.m. at the funeral home, with Pastor Bob Anderson officiating. Watch a livestream of the funeral here. He will be laid to rest in Peek Cemetery following the service.
A separate memorial service will be held in Overland Park, Kansas the week of January 18 (date, time, and place TBD).