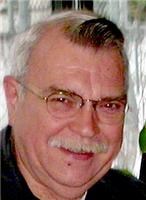 William Earl "Bill" Schrock, age 78, of Sturgis, passed away Thursday, Feb. 4, 2021, at Rose Arbor Hospice in Kalamazoo.
He was born Nov. 29, 1942, in Sturgis, a son of the late Miriam and Earl Schrock.
Following his graduation from Bristol High School and working in southwest Michigan, in 1967 Bill and his wife at the time, Karen (married 1963), moved to Orange, Calif., where he worked for Bowers Medical Supply. His son, Ray, came to Bill's family in 1971. Bill returned to Three Rivers in 1978 and raised his family in southwest Michigan, where he remained for the rest of his life. Bill had been employed for most of his time at Armstrong Machine Works in Three Rivers. He was a two-time past-president of Fraternal Order of Eagles #2303 in Three Rivers, enjoyed spending time with family, science fiction movies and TV shows, model trains, strawberry shortcake, popcorn (just about any kind of food), was an avid "Star Trek" fan and loved his dogs.
Following his divorce, Bill married Shirley Penn. Shirley and Bill remained very happily married in the Sturgis area until Bill's passing.
Surviving are his wife, Shirley; a son from his first marriage, Ray (wife, Anne) Schrock of Rye, N.Y.; two grandchildren, Elizabeth Grace (16) and Matthew Addison (14), also of Rye; a sister, Sharon Wilson of Sturgis; two nephews, Corey Wilson (35) of Centreville, and Bret Wilson (32) of Middlebury; a niece, Tiffany Wilson (32) of Sturgis; and several stepchildren and grandchildren.
There will be no visitation or services, as cremation has taken place and in light of the global pandemic. A graveside service will be held this spring, on a date to be announced.
His obituary also is at www.hackmanfamilyfuneralhomes.com, where personal messages of support may be left for the family.