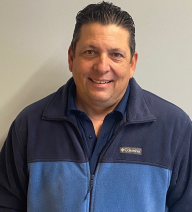 Darrel Detwiler has joined the Clark Logic team in the role of Director of Safety and Compliance effective February 1. Darrel comes to Clark Logic with a myriad of experience which includes 11 years working with Central Manufacturing Services from 1987 to 1998 and most recently at Pfizer, from 1998 to 2021.
In his new role, Darrel will create and revise safety policies and ensure their implementation in all our company operations. Darrel will help us to minimize risk and if safety problems arise, he will analyze what went wrong and what can be done to prevent the occurrence from ever happening again. He will also detect gaps in training needs and determine what needs to be taught to employees to create a better safety record.
"We are very pleased to see Darrel return to our team and work in this critical position," stressed Jamie Clark, President of Clark Logic. "He brings with him a wealth of knowledge and experience to help us advance to new levels when it comes to safety and transportation."
Besides having relevant experience as a truck driver and forklift operator during this career, Darrel was also heavily engaged in helping increase safety efficiencies and measures through various safety initiatives during his 23 years at Pfizer.
"Darrel has been immersed in pivotal safety roles throughout his career which will enable him to help direct our vital safety and compliance initiatives," cited David Casterline, Chief Executive Officer at Clark Logic. "I expect his impact to be immediate when it comes to our safety process, thanks to his vast experience level."
Central Manufacturing Services was founded in 1969 by James "Big Jim" Clark. His vision was … "We are a company looking into the future." That vision carries on today. Through the years, the journey has evolved into several notable companies including: I-Trailer; J&L Express; and Team Manufacturing Services with a fleet of over 50 trucks and 3,000 trailers. Today, under the umbrella of Clark Logic, the organization has also transformed into a real estate development business with a footprint of over 3 million square feet throughout Southwest Michigan and northern Indiana – inclusive of warehousing and work space utilized by several nationally known companies. Our winning team culture combined with an exceptional workforce are proud to be serving this area for over 50 years. To learn more about pursuing a career at Clark Logic, please visit our website at: ClarkLogic.com. Clark Logic, a visionary company — driven by its people.