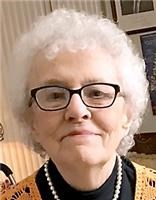 Eunice M. Dettman, age 93, of Novi, and a former longtime Sturgis resident, passed away early Monday morning, Feb, 8, 2021, at Seasons Hospice Harper University Hospital in Detroit.
She was born June 15, 1927, in Madison, Wis., a daughter of the late John and Magdalene (Salchenberger) Albright. She graduated from the University of Wisconsin, with a Bachelor of Arts degree, and from the University of Minnesota, with a Bachelor of Science degree in nursing.
Eunice spent most of her adult life in Sturgis, where she raised her children, and worked as a nurse at Sturgis Hospital. In recent years, she moved to the Novi area.
Eunice was a member of Sturgis Newcomers Club and played in bridge clubs. She was an avid fan of most all sports, and also enjoyed reading, crossword puzzles and solitaire.
But the primary focus of Eunice's life was her children. Many will remember her being the coach of her son's Little League baseball team. She was a constant fixture at sporting events and school ceremonies in Sturgis, as her children grew up. Later, she frequently traveled to visit her children and grandchildren throughout the U.S., and they also frequently visited her. She enjoyed warm and loving relationships with her large and widespread family, and inspired them all with her passion for life. They will miss her deeply.
She is survived by three sons, James (Niki) Dettman of Highland, Calif., Mark Dettman of Wixom and Matthew (Amanda) Dettman of Bowling Green, Ky.; a daughter, Ann Dettman of LaPlace, La.; and 10 grandchildren, Jamey, Kelly, Anna, Mark, Jack, Charles, Lily, Thomas, Devin and Elena.
She was preceded in death by her son, Paul Stewart; a brother, Jack Albright; and parents and step-parents John and Elsie Albright, and Madge and Elliot Walstead.
In accordance with her wishes, cremation has taken place. Private burial of the ashes will take place at Oak Lawn Cemetery in Sturgis, and a small portion of her ashes will also be spread near Lake Monona in Madison. Services will be held at a later date, to be announced.
Hackman Family Funeral Homes of Sturgis is honored to be entrusted with the arrangements.
The family suggests that, in lieu of flowers, a memorial donation in Eunice's memory be directed to Sturgis Hospital, 916 Myrtle Ave., Sturgis, MI 49091.
Her obituary is also at www.hackmanfamilyfuneralhomes.com, where relatives and friends may share memories and leave condolences for the family.