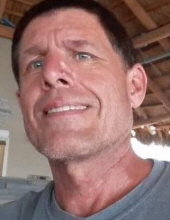 Kyle James Samuels, age 50, of Sturgis, passed away peacefully Wednesday, February 10, 2021, at the Ascension Borgess Hospital in Kalamazoo.
He was born on August 10, 1970 in Sturgis, son of Byron and Sandra (Williams) Samuels.
Kyle attended and was a graduate of Sturgis High School with the class or 1988. Shortly after his graduation he moved to Fort Myers, Florida where he resided for several years, returning to Michigan in the summer of 2020 where he remained until the time of his passing.
He owned and operated Wilkins Flooring and was an expert in the installation of ceramic tile and all types of flooring.
He loved being on the water, especially wake boarding with his son Zane and friends. Kyle made several trips to see his family, most recently to his nieces wedding.
Kyle is survived by his son Zane Samuels of Fort Myers, Fl; his parents, Sandra Kohloff Williams of Sturgis; Step-father Dan Kohloff of Colon; Byron (Pamela) Samuels of White Pigeon; Deb Arey of Jackson; Siblings Christine Shepherd of Sturgis; Jennifer Lock of Stockton CA; Matt Samuels of Sturgis; Three Step-siblings Trevor Taylor, Troy Taylor, and Travis Taylor. Several nieces and nephews; several great nieces and nephews and his girlfriend Linda "Angel" Kirkbride.
He was preceded in death by his grandparents, Dorothy and Clifford Samuels; Cleo and Helen Williams; his uncle Rex Samuels.
The family will receive friends and family from 1:00 to 2:00 P.M., Thursday, February 18th at His House Foursquare Church, 410 S. Clay St. in Sturgis where a memorial service celebrating and honoring the life of Kyle James Samuels will immediately follow the visitation at 2:00 P.M. Pastor Doug Carr will officiate.
Zoom will be available for streaming, please contact Sandra Williams or Amber Shotzman.
In lieu of flowers memorial donations would be appreciated to the Hackman Family Funeral Homes, P.O. Box 9, Sturgis, MI 49091 who is entrusted with the arrangements.
The obituary is also at www.hackmanfamilyfuneralhomes.com where we encourage relatives and friends to share memories and leave condolences for the family.