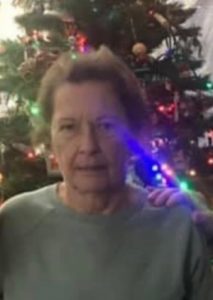 Margaret Lois Bubetz was born in Detroit on Dec. 27, 1936 to Matilda (Davy) and Henry Bubetz. She and her mother, brother and sister moved to Three Rivers in 1952. When Margaret was 17 years old, she was having trouble at home, so she left with intentions to go back to Detroit. But on the way she stopped at a café in Mendon where she saw a friend named Joel Crabtree who offered to take her to the family farm for a meal and a place to sleep. Soon she became the unofficial adoptee of the Crabtree family, so she decided to stay with them. She earned her keep by babysitting the growing number of children being born into the Crabtree family. She was young, and Joel was young, so they started going out together and gradually they fell in love. On Sep. 4, 1954 they were married bringing four children into the family, Deborah, Karen, Danial, and Donald. They celebrated their 66th Wedding Anniversary on Sep. 4, 2020. Due to failing health, Margaret passed away on Thursday, Feb. 25, 2021.
She was preceded in death by her daughter, Deborah, her son, Donald, her grandson, Freeman, and her brother, Walter. Margaret is survived by her husband, Joel; her daughter, Karen Peer; her son, Danial Crabtree; her sister, Rose Marie Kanhe; her step-sister, Betty Hirsey; grandchildren, Christopher Crabtree (Jessica), Kristin Lane (Mark), Kelsey Rivers-Perez (David); and great-grandchildren, Gabriel, Benjamon, and Daniel Rivera-Perez, and Elenor and Jakk Lane.
We weep for her loss, yet we thank God for the joy of having her in our lives for so many years.
In keeping with her wishes, cremation has been conducted and a private family service will be held later. Memories and condolences may be shared with the family at www.eickhofffuneralhome.com