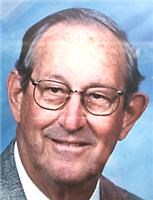 Warren Junior Fudge, age 97, of Klinger Lake, Sturgis, passed away Saturday afternoon, Feb. 20, 2021, at his home.
He was born Jan. 18, 1924, in Lynn, Ind., a son of the late Warren L. and Ethel (Hinshaw) Fudge.
Mr. Fudge was raised on a farm in Lynn, where he was a graduate of Lynn High School with the class of 1942. At the age of 18, he left home to further his education at Ball State University in Muncie, Ind. On March 13, 1943, he was drafted into the U.S. Army, serving until March 14, 1946, when he was honorably discharged, earning the rank of Sergeant. Most of his time in the service was he was stationed in the Mojave Desert. He was in travel to join Japan to join the occupation forces when the War came to an end. Mr. Fudge returned to Ball State University, where he earned bachelor's and master's degrees. He also completed graduate studies at Michigan State University and Columbia University.
On June 4, 1949, he married Angeline "Angie" Rorris in Hammond, Ind. She preceded him in death Jan. 23, 2016.
Mr. Fudge's education career began at the Mendon Community Schools, where he taught from 1948-1951 and assumed the position of high school principal, serving from 1951-1953. In 1953, he accepted the position of superintendent of schools at White Pigeon Community Schools, from 1953-1957. He also served as superintendent of schools at Sturgis Public Schools for 17 years, where he was instrumental in the building of the current high school and Calhoun County School District in Marshall for 13 years.
Mr. Fudge was appointed as the first executive secretary of the Michigan Association of School Administrators Association for the state of Michigan, a position he held for six years. He appreciated the opportunity of working with fellow educators, school board members, staff members and community constituents during 45 years in education.
Mr. Fudge was a life member of the Michigan Association of Superintendents & Administrators, 39-year member of Michigan School Administrators, serving as state president 1971-1972 and served on many state committees, American Educational Service Agency, served on national committees of the association, including the Executive Board, Michigan Association of Intermediate School Districts, appointed executive secretary of the Association, Michigan Association Congress of School Administrators, served as president and executive board member, Associations of the Professionals, served as president, State Parent and Teachers Board, served as state treasurer, member of the Educational Forum, secretary of Calhoun Association of Boards for 13 years and was appointed and served on many state educational committees.
Mr. Fudge was an active member of the Rotary and Kiwanis Clubs, church committees, served as vice president of Sturgis Chamber of Commerce, board member of St. Joseph County Boy Scouts and served on the board of Oak Lawn Hospital in Marshall.
Mr. Fudge received many awards, including being elected to the Michigan Educators Hall of Fame, 1987, special award from the Calhoun School Board of Association, 1982 and received the Prentice Award from the American Association of Service Agencies, 1992.
His current activities include memberships at Klinger Lake Country Club, St. Joseph County Historical Society, past board member, Sturgis Historical Society, committee member on investments of the Calhoun School Board, First United Methodist Church in Sturgis, Sturgis Rotary Club, member of the board and treasurer of the White Pigeon Sanitation System, and member of Swartz-VanFleet Post #138 American Legion in White Pigeon.
He enjoyed time with family and friends, reading and discussions at Book Club, playing bridge, eating out with friends, the sunshine in Florida in the winter, residing at Klinger Lake and volunteering.
He is survived by a son, Thomas W. (Cathy) Fudge of Klinger Lake, Sturgis; two grandsons, Brandon Fudge of Battle Creek and Dustin Fudge of Novi and his son, Warren David Fudge; great-niece and great-nephews Dan Coats of Atlanta, Debbie Coats of Sturgis, Jeff Coats and John Coats, both of Batavia, N.Y., and David Coats of Florida.
He was preceded in death by his parents; his wife; a son, Michael Fudge; a sister, Helen Coats; and a great-niece, Cindy Coats.
There will be no visitation. A graveside and burial will take place at 11 a.m. Saturday at Oak Lawn Cemetery in Sturgis. The Rev. Sue Babb of First United Methodist Church in Sturgis will officiate. Full military honors will be conferred by Captain John J. Kelley Post #1355 VFW and the U.S. Army Honor Guards.
Hackman Family Funeral Homes of Sturgis is entrusted with arrangements.
The family suggests those wishing to make a memorial donation in Mr. Fudge's memory consider Sturgis Historical Society, 101 S. Jefferson St.; or Sturgis Public Schools Endowment Fund, 310 N. Franks Ave., Sturgis, MI 49091.
His obituary is also at www.hackmanfamilyfuneralhomes.com, where relatives and friends may share memories and leave condolences for the family.