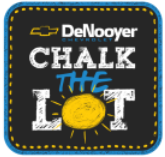 As the weather gets warmer and the sun is shining, color is brought  back into the world. DeNooyer Chevrolet wants to do just that with their first ever Chalk the Lot event. Ryan DeNooyer, General Manager, says of the event "DeNooyer Chevrolet believes in supporting families and the community and this event is aimed at doing just that. It has been a  hard year for everyone, and we thought this event could safely bring families and people  throughout our community together and give additional support to one of the great artistic  organizations in greater Kalamazoo."
Members of the community are welcome to stop by the DeNooyer Chevrolet dealership,  located on Stadium Drive, on Saturday June 12th, 2021 from 7 a.m. to 2 p.m. to watch live chalk  art being created. The art will also be available (weather permitting) for viewing until Friday,  June 18th, when the People's Choice Award will then be announced and on our social media  pages.
Registered artists will be showcasing their work and creating one-of-a-kind pieces of art during this time, using chalk, on the dealership's lot. This event is family friendly, free to the  public and will feature refreshments, summertime games and of course the beautiful  masterpieces that family, friends, and professionals create. Art creation happens from 7am Noon and judging will happen from Noon to 1pm.
If interested in being an artist at the event, you can find registration details online at www.denooyer.com/chalkthelot. The artist registration deadline is April 30th. A local celebrity  panel of judges will vote one winner for each of the three competing categories: student (high  school age), adult (18 years or older), and family/team (4 members max). These individuals will  be awarded a $250 cash prize and a 1-year membership to the KIA! Registration can be sent to  events@denooyer.com.
In addition, a People's Choice Award will be voted on throughout the day of the event  and voting will continue to be open until Friday, June 18th at Noon. This award is for $250 plus a  1-year membership to the KIA, as well! The community is invited to stop in all week look to look  at the art (weather permitting) or vote via our social media pages.
This event is in collaboration with Kalamazoo Institute of Arts, a private non-profit  organization that encourages the community and visitors from around the world to enjoy and  create art.
Head to www.denooyer.com/chalkthelot to find the full event details and rules.