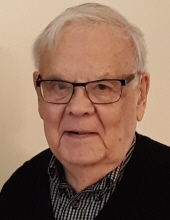 George Stuart Goss, age 94, of Sturgis, went home to be with his Lord and Savior on Sunday, March 21, 2021.
George was born on August 11, 1926 in Grand Rapids to parents Ray T. and Sylvia (Spoelstra) Goss.
After attending Calvin College and Moody Bible Institute, he was ordained as a full-time minister through the IFCA. He pastored in several churches including Saginaw, Stanton, and Centerville. He also worked at Sturgis Foundry retiring in December of 1996.
From 1948-1968 George shared life with Maxine Dunithan Goss. They had three children together, Ray, Doug, and Faith. Doug preceded him in death in 1976.
In 1984 he married Thelma Marvin, and they have shared life to the fullest for 36 years. George has loved Thelma's daughter Jennifer as his own for all those years.
George was active in the Stanton Lion's Club, St. Joseph County Right to Life, and was instrumental in establishing the Sturgis Pregnancy Help Line. George was a member of the Sturgis Evangelical Church.
He loved the Scriptures and spent many hours enjoying the Word of God. He was known as a man of strong faith and great prayer with a desire for all to know and love the Savior. He also loved travel, and he loved family, especially his grandchildren; they brought him great joy.
He is survived by his wife Thelma, son Ray, daughter Faith (Jamie) Wilson, daughter Jennifer (Mark) Mealy. Grandchildren Angie Sherwood, Bethany Little, Heather Bohm, Douglas Wilson, Tierra Peffer, Jacob Mealy, Caitlyn Nunemaker, Brandon Wilson, Alaina Wilson as well as a number of great and great-great grandchildren.
Visitation will be at the Centreville Baptist Church on Wednesday, March 24th, from 6:00 to 8:00 pm. A private funeral will take place later.
The Hackman Family Funeral Homes of Sturgis is entrusted with the arrangements.
In lieu of flowers, donations would be appreciated to the Sturgis Pregnancy Help Line, 1125 N. Nottawa St., Sturgis, MI 49091 or World Vision, P.O. Box 9716, Federal Way, WA 98063.
The obituary is also at www.hackmanfamilyfuneralhomes.com where we encourage relatives and friends to share memories and leave condolences for the family.