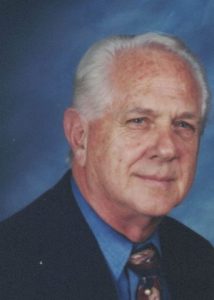 Theodore M. (Ted) Schipper, age 92, passed away Sunday, March 7, 2021 at his son's home in Colon.
Ted was born July 18, 1928 in Allendale a son to the late Minord M. & Anna M. (VanSingle) Schipper.
He grew up in Allendale on the family dairy farm and moved to Colon in 1957 where  he has resided since.
Ted first attended Michigan State University, then transferred to Indiana School of Mortuary Science where he earned his degree in Mortuary Science in 1952.
After college he entered the United States Army, serving with the Third Infantry Division in Korea earning the rank of Sergeant, and earned a Bronze Star.
On August 12, 1955 he married Helen Ann Dykstra in Grand Rapids, she preceded him in death February 4, 2003.
Ted owned and operated the Schipper Funeral Home in Colon and later was a partner in the Rosenberg Schipper Funeral Home LTD in Sturgis, giving many years of dedicated service.
He was a member of the Colon United Methodist Church, life member of the Colon American Legion and Colon Historical Society, had served on the Colon School Board as president and had been a member of the Michigan Funeral Directors Association for 69 years.
He is survived by two sons; Chad T. Schipper and friend Sharon Hagen and Tod M. Schipper of Colon, son-in-law Marion (Chris) Hayes of Washington, Iowa, Two grandchildren; Tyler (Kirsten) Schipper of Colon and Megan (Turner) Schultz of East Leroy an several nieces and nephews.
Besides his wife Helen he was preceded in death by a daughter Debra Kay Hayes and brother Willis (Bill) Schipper.
The family will receive relatives and friends on Wednesday at the Schipper Funeral Home from 6 to 8 P.M.  Funeral services celebrating the life of Ted M. Schipper will be Thursday, March 11, 2021 at 11:00 A.M. at the funeral home with Rev. David J. Farrell officiating. Burial will follow at Lakeside Cemetery with Military honors conferred by the Colon American Legion Post #454 and the United States Army Honor Guard. If desired memorials may be made to either the Colon United Methodist Church or the Colon Historical Society.