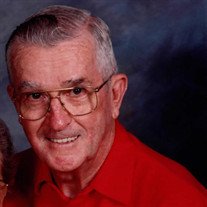 Dale Bowlby went home to be with the Lord early Monday morning, April 26, 2021 at Borgess Hospital following a battle with colon cancer.
Dale was born to Forrest C. Bowlby and Lydia Amber Reames on December 29, 1929 in a small village called Corey, Michigan.
On April 26, 1952 he was wed to Bernadeen Swartz at the United Methodist Church in Marcellus. They enjoyed 69 years together.
Dale was a member of the Marcellus Lions Club for many years in which he enjoyed, and he also attended Howardsville Gospel Chapel.
Dale worked at American Coach in Cassopolis for 10 years and later worked at Sunstrand as a tool and die maker, of which he retired.
He leaves to cherish his memory, his wife Bernadeen Bowlby; daughter Sheryl Bohun; son David Norman Bowlby; daughter-in-law Kay (Jordan) Bowlby; grandchildren Jon Kaufmann, Andrea Carlton Hurst, Donald Norman Bowlby, Dana Bowlby Myers; great-grandchildren Kurt Kaufmann, Amelia, Lydia, and Charlie Hurst, Davin Norman Bowlby, Vana Bowlby, Huxley Myers; brothers-in-law Wayne Swartz of Marcellus, Roger Swartz of Marcellus, Keith Swartz of Three Rivers; sisters-in-law Beatrice (Swartz) Rowe of Three Rivers, Bonita (Swartz) Summers of Three Rivers, Beth (Swartz) Harrell of Marcellus; many nieces and nephews.
Dale was an avid fisherman who loved nothing more than to enjoy a fresh pan of fried fish. He embraced the outdoors, enjoying hunting and hunting mushrooms in the Manton, Michigan area with friends and family. You could also find Dale tending to his garden that he enjoyed greatly.
Dale was preceded in death by his parents Forrest and Lydia Bowlby; brother Warren Bowlby; son-in-law William (Bill) Bohun.
The family will receive friends for visitation from 12 to 1pm Friday, April 30, 2021 at the Mater-Ralston Funeral Home, 52780 M-40 North, Marcellus with funeral services following at 1pm. Burial will follow at Marcellus Cemetery. Memorials may be directed to the Marcellus Lions Club or Marcellus Ambulance Fund. Online condolences may be left at www.materralstonfuneralhome.com