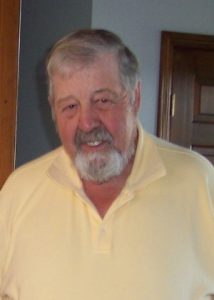 Earl Ross Jr., age 84, of Sherwood, passed away on Sunday, April 11, 2021 in Sturgis.
Earl was born on May 27, 1936 in Fort Wayne, a son to the late Earl and Lula (Guerin) Ross Sr.
On February 24, 1968 Earl married Marcia Jean Batten in Leonidas. Marcia would precede him in death on September 21, 2018.
Earl moved to the Sherwood area in 1955 and spent the remainder of his life there. He was a member of the Church of the Nazarene in Sturgis. Earl retired from Essex Aluminum in Coldwater and also farmed. Following retirement Earl helped deliver the Battle Creek Enquirer for many years. Earl enjoyed hunting, fishing, farming, gardening, and being outside.
Earl is survived by his 9 children: Arden Davidson of Battle Creek, Mark (Deb) Davidson of Kentucky, Morris (Joyce) Ross of Kinderhook, Mike (Vicky) Ross of Bronson, Tim (Janet) Davidson of Illinois, Bob (Lisa) Ross of Sturgis, Rod (Tammara) Ross of Memphis, IN, Tammy (Rusty) Winston of Bronson, Michelle (Todd) Wallace of Bronson, many grandchildren, great grandchildren, and great great grandchildren, sister Diane (Dave) Rench of Union City, and many nieces and nephews.
Besides his parents Earl was preceded in death by his wife Marcia Ross, sister Joyce Wilson, and brother Tom Ross.
The Ross family will receive friends and relatives on Tuesday, April 13, 2021 from 4 to 8 PM at the Church of the Nazarene in Sturgis. A funeral service celebrating the life of Earl will be held on Wednesday, April 14, 2021 at 11:00 AM also at the Church of the Nazarene in Sturgis with Pastor Gary Bond officiating. Interment will follow in Matteson Cemetery. A lunch will be provided back at the Nazarene Church following the comital.
Arrangements by Schipper Funeral Home.