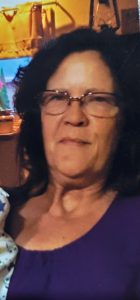 Elissa A. Andrews, age 61, of Sturgis, passed away on Wednesday, April 14, 2021 in Sturgis. Elissa was born in Sturgis on August 29, 1959 to Mary Ellen McKercher. She spent most of her life in the Sturgis area, with the exception of her time in Billings, MT and Salt Lake City, UT.
Elissa graduated from Burr Oak High School in 1977 and also attended Glen Oaks Community College. She was an accounting assistant at Telemark for 27+ years enjoying her various responsibilities. She was active in area pool leagues, making many friends. If there was a band playing somewhere locally, you can bet she was there dancing. Elissa had a heart of gold, and was always willing to help anyone in need even if that meant she would do without, herself. She was drawn to people who needed her special type of friendship and compassion, and accepting of everyone in her life without judgement.
Elissa was preceded in death by her mother Mary Ellen Bauer (March 2015), grandson Tyler Hartzell (April 2019), maternal grandparents, and aunts.
She is survived by her children David (Lisa) Rundman of Constantine and Lisa (Torel) Nichols of Snowflake, AZ; grandchildren Jordan Hartzell, Danielle Hartzell, Hannah Nichols, Hallie Nichols, Haddli Nichols, Hayydn Nichols, and Harrli Nichols; great grandchildren Colson and Luka; father Garry Bauer, Sr. of MT; step sons Tim (Nicole) Andrews, of Jones, James Andrews, of Three Rivers, step daughter Christin (Justin) Wells, of Centreville and their families, brothers Garry (Carla) Bauer, Jr. of TN and Garrett (Jen) Bauer of MT; along with several nieces, nephews, and beloved cousins.
Relatives and friends will be received on Monday, April 19 from 4:00 to 8:00 PM at Eley Funeral Home in Constantine. Due to current restrictions, a private family service will be held. A public graveside service will be held on Tuesday, April 20 at 3:15 PM at Burr Oak Cemetery (65000 Middle Colon Rd., Burr Oak, MI). Memorial contributions can be given to the family.
Please visit www.eleyfuneralhomes.com to sign Elissa's online guestbook and to leave a message for the family.