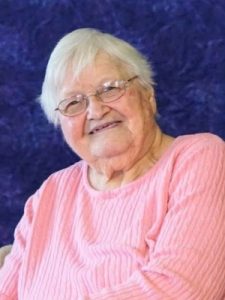 On April 13, 2021, at 100 years of age, Evelyn Lucille Anderson of Three Rivers went home to be with her Savior. She was born on June 26, 1920, to the late Walter and Julia Conrad. At the age of 13, she submitted to the Spirit's calling and accepted Jesus Christ as her Savior. She attended Three Rivers High School and graduated in 1938.
In December 1945, soon after her fiancé returned home from the war, she married her high school sweetheart, Gerald Anderson. They were happily married for 57 years until he passed away in January 2003. They were members of Howardsville Gospel Chapel and the Three Rivers Bible Church during their lives together. They were blessed with three children: Ruth Ellyn (David) Wing of Jackson, TN; Stephen (Kimberley) Anderson of Smithfield, VA; and Nathan (Peggy) Anderson of Three Rivers. Evelyn was also a loving grandma to her 14 grandchildren and 19 great-grandchildren.
In addition to being a devoted homemaker, Evelyn also was a skilled bookkeeper. She held positions at the Hazen Lumber Yard (Huddlestun), Wells Saw Company, and after retiring from Wells, as Treasurer for Howardsville Christian School.
Evelyn cared for her mother after the death of her father. She loved to visit her grandchildren and was a gracious hostess to family and friends. Supporting missionaries was a cause dear to her heart evidenced through her support of a wide variety of ministries.
She will be remembered for her love for her family and for her strong faith which was reflected in the way she lived her life.
A memorial service will be held on Saturday, May 1 at 12:30 p.m. at the Three Rivers Bible Church with Steve Weiandt officiating. The family requests that masks be worn, social distancing be observed, and current Michigan Covid regulations be adhered to during the memorial service.
Memorial donations may be directed to Howardsville Christian School, 53441 Bent Road, Marcellus, MI 49067.
Arrangements by Hohner Funeral Home.