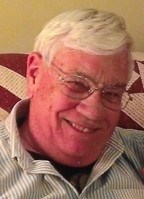 Donald L. Houser, age 84, of Sturgis, moved on peacefully to his eternal home on Friday, May 21, 2021, surrounded by his family.
He was born October 7, 1936, in Buhl, Idaho to Jay and Florence (Roth) Houser.
He grew up in Filer and Twin Falls, ID.
He served in Volunteer Service at Heston College in Heston, Kansas for 2 years, moving to Middlebury, IN in 1957 to work as office manager for the Shipshewana Livestock Auction. He and his brother later established H & H Steel Company in Middlebury.
In 1980 he married Mary Lee (Clemens) Bowersox and moved to Sturgis.
Don enjoyed woodworking, playing cards with friends, watching sports (having played softball in his early years) and time with family. In his retirement he assisted Mary in her daycare and was "beloved Papa" to many children.
He is survived by his wife: Mary; 2 brothers: Dean (Bonnie) Houser of St. George, UT and Harold (Marlene) Houser of Sturgis; one sister: Vaila Kinney of Villa Rica, GA; children: Donya (John) Ferry of Goshen; Skeet (Angie) Bowersox and April (Kris) Hurley of Sturgis, and Skip (Erin) Bowersox of Homer, AK. He is also loved and missed by 13 grandchildren; 8 great-grandchildren; several nieces and nephews, and "Papa's Little Buddy" Andrew.
He was preceded in death by his parents and a daughter: Tonda Flora.
The family will receive friends and relatives from 6:00 to 8:00 P.M., Friday, June 4, 2021 at the Sturgis Evangelical Church. A celebration of his life will be held at 11:00 A.M., Saturday, June 5, 2021 at the church with the Rev. Troy Diersing and son Skip Bowersox, officiating. The service will be live streamed and can be found on the Sturgis Evangelical Church Facebook page.
In lieu of flowers, memorial contributions may be directed to Youth for Christ of Southwest Michigan or Hospice of Southwest Michigan, envelopes are available at the church or the Hackman Family Funeral Homes of Sturgis who have been entrusted with the arrangements.
His obituary is also at www.hackmanfamilyfuneralhomes.com where personal messages of support may be left for the family.