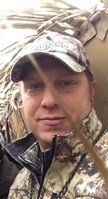 Jeremiah Joseph "Jeremy" Slemp, age 41, of Hoisington, Kansas, formerly from Constantine, passed away Friday, April 30, 2021, at Clara Barton Hospital, Hoisington, Kansas.
Jeremy was born November 19, 1979, in Sturgis, the son of Joseph E. and Sandra K. (McClain) Slemp. He was a resident of Hoisington, Kansas, for one year, moving from Bison, Kansas. A 1998 graduate of Constantine High School, he was the Central Kansas Commercial Account Manager for Advance Auto Parts.
He was an active member of the Hays Soccer Club, Hays, Kansas, both as a player and a youth coach. He was a life member of the NRA, and loved to hunt.
On September 14, 2002, he married Ashley K. Henry at Hays, Kansas.
Survivors include: his wife, Ashley Slemp, Hoisington, Kansas; four sons, Dakota Slemp, Dillon Slemp, Dawson Slemp, and Deklan Slemp of the home; his father and step mother, Joseph "Joe" and Linda Slemp, La Crosse, Kansas; his mother, Sandra Hummel, Constantine; his maternal grandmother, Mary McClain, Three Rivers; one sister, Lacy Quake (Andrew), Three Rivers; and one step brother, Ron Reed (April), La Crosse, Kansas.
He was preceded in death by his step father, Lee Hummel; his paternal grandparents, James and Billie Slemp; and his maternal grandfather, Kenneth McClain.
The family hosted a celebration of Jeremy's life Friday, May 7, 2021, at 5:00 P.M. at 1006 2nd Street, Albert, Kansas.
In lieu of flowers or plants, the family requests memorials to the Hays Soccer Club, Hays, Kansas.
Condolences or remembrances may be left for the family at www.janousekfuneralhome.com.
Arrangements were by Janousek Funeral Home, 719 Pine Street, P O Box 550, La Crosse, Kansas 67548, 785/222-2517.