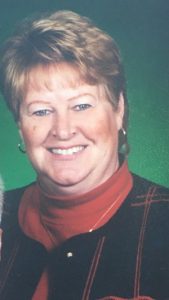 Mary Elizabeth Shearer, age 74, of Vicksburg, died on Friday, April 30, 2021 with family at her side at Birch Meadows in Three Rivers.  She was born in Vicksburg's Franklin Hospital on June 25, 1946 the daughter of Willard and Beverly (Given) Snyder and lived and was raised in Mendon.  She graduated from Mendon High School with the Class of 1964, and worked as an Administrative Assistant at Upjohn Pharmaceuticals, and later Pfizer in Portage for more than 33 years.
Mary enjoyed bowling and was a member of the Kalamazoo Bowling Hall of Fame.  She was also a bowling coach for the Young American Bowling Association and the Special Olympics.  She also played softball, pitching on the Upjohn team, and coaching her girls' softball teams.  She was a member of St. Augustine Catholic Church in Kalamazoo, and was a big Elvis Presley fan.
She was a beloved wife, mother, and grandmother and will be remembered for her feisty, but caring demeanor.  She was often seen, and heard from the stands cheering for her grandchildren.  She loved hearing and telling a good joke to others.  And she especially loved family gatherings and cooking on the grill by the pool.
Mary was married to Charles J. "Chuck" Shearer on Oct. 30, 1964 in the former St. Edward, now St Martin Catholic Church in Vicksburg.  He survives along with two daughters, Michelle (John) Fulton of Vicksburg and Marcy (Bryan) Wright of Albion; four grandchildren, Matthew Boomer, Michael Boomer, Andrew Wright, and Anne-Marie Wright; two brothers, Dexter (Charlotte) Snyder of Mendon and John Snyder of Kalamazoo; several nieces and nephews; and many in-laws.  She was preceded in death by her parents, Bill and Bev Snyder; and by her mother and father-in-law, Lynn and Doris Shearer.
The family will receive friends from 6 to 8 pm Friday, May 7, 2021 at the Eickhoff Funeral Home in Mendon, and where the Rosary will be recited following visitation at 8 pm.  The funeral mass will be 1 pm Saturday, May 8, 2021 at St. Augustine Catholic Church, 542 W. Michigan Ave., Kalamazoo, 49007 with Rev. Robert Creagan officiating.  Burial will be in Mendon Cemetery.  It is suggested that memorial donations be directed to either, St Augustine Catholic Church, or to Hospice Care of Southwest Michigan.  Memories and condolences may be shared with the family at www.eickhofffuneralhome.com