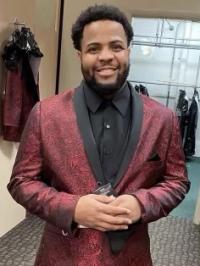 Tevin Eric Jorge, age 27, of Three Rivers, departed this life on Thursday, May 20, 2021 at Bronson Memorial Hospital in Kalamazoo after a lifelong battle with Sickle Cell Anemia.
A Celebration of Life service will be held on Saturday, May 29, 2021 at 2pm, with a 1pm family hour/visitation at New Jerusalem Baptist Church , 817 8th St., Three Rivers, MI, 49093, with Pastor Tony Bennett officiating.  Services may also be viewed virtually via Facebook Live @NJCPBPage (https://www.facebook.com/NJBC817) and the Whitley Memorial Funeral Home website (www.whitleymemorialfuneralhome.com), to which services have been entrusted.
Tevin was born in Kalamazoo to Eric Steven Jorge and Vercysia Latryce Whitten on March 30, 1994.  He attended Three Rivers area schools, graduating from Three Rivers High School in 2012.  A devoted son, brother, cousin and friend, Tevin was preceded in death by his maternal grandmother Velma R. Whitten and paternal grandfather Charles Wesley George.
Tevin is survived by his parents Vercysia Whitten (Jorge) and Eric Steven Jorge; his brothers Reenaal E. Jorge and Alecq T.E. Jorge; his grandparents Coy L. Whitten, Sr. and Shirley Rich (George); as well as a host of aunts, uncles, cousins and dear friends.
The family of Tevin Jorge wishes to extend sincere thanks for the many kind thoughts and gestures during this difficult time.