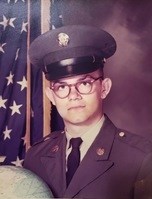 William J. Sanderson, age 68, of LaGrange, passed away Sunday, May 9th, 2021, at the VA Hospital in Marion, IN following an extended illness.
William was born on August, 10th 1952 in LaGrange, to Frank and Leona (Shafer) Sanderson.
He spent a majority of his life living in LaGrange.
He enjoyed hunting, fishing, competitive shooting and traveling. William was a proud and loving grandfather that cherished each moment with his grandchildren.
Surviving William are his three children, Billie Sanderson, of St. Cloud, FL, Nicholas (Aimie) Sanderson of Sturgis, and Mitchell Sanderson of Sturgis; four grandchildren Lauryn, Lynsie, Brenda, and Quentin; his brother, Charles(Forrest) Sanderson of LaGrange; two sisters, Dorothy Brown of LaGrange, and Sandra Garrison of Fort Wayne; and many nieces and nephews.
Preceding him in death were his parents, Frank and Leona (Shafer) Sanderson; and two sisters, Judie Lewis, and Sally Boyles.
Visitation will be on Friday, May 14, 2021, from 4: to 7:00 at the Frurip-May Funeral Home, 309 W. Michigan St., LaGrange, IN.
Funeral services will take place at 10 a.m. on Saturday, May 15, 2021, at the funeral home.
Burial will follow at Ontario Cemetery in Howe, IN.
Military rites will be conducted by the LaGrange American Legion Post #215.
Online condolences may be submitted to the family at www.fruripmayfuneralhome.com.