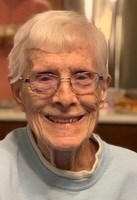 Bertie Lou Nelson, age 92, of Sturgis, passed away early Sunday evening June 6, 2021 at the Sturgis Hospital Emergency Room.
She was born March 30, 1929 in Sturgis, daughter of the late Harold "Sam" and Roberta (Radley) Jordan.
Bertie Lou was a lifelong Sturgis resident and graduate of Sturgis High School with the class of 1947. She furthered her education at Michigan State University in East Lansing.
Nearly all of Bertie Lou's working life was involved in the business of insurance. She began her career at the Harold Walters Insurance Agency in Sturgis where she worked for many years before establishing her own agency the Bertie Lou Nelson Insurance Agency a business she operated until her retirement. Following her retirement she became a licensed real estate agent working for Herb Kauffman Real Estate in Sturgis.
She was a member of the First Baptist Church in Sturgis and enjoyed wintering in Florida, playing golf, traveling and playing cards especially Bridge.
Bertie Lou had a true love for the sport of bowling. She participated in league bowling for many years. She was a longtime board member of the Sturgis Women's Bowling Association and was inducted into the Sturgis Bowl Hall of Fame and the Women's International Bowling Congress. She was proud of the fact she had traveled to 40 consecutive national bowling tournaments throughout the United States.
She is survived by one daughter: Lori (John) Day of Sturgis; two sons: Curt Nelson of LaGrange and Douglas (Lori) Nelson of California; five grandchildren: Amy Shank, Lindsey (Logan) Nelson, Chelsea (Alex) Reynolds, Haley Nelson and John Day; Mimi's six great grandchildren: McKenna Knisley, Breylyn Shank, Abel Shank, Alayna Reynolds, Lincoln Day and Lucas Reynolds; one brother: George (Tandra) Jordan of Sturgis and several nieces and nephews.
She was preceded in death by her parents, husband: Robert Pinney; son: Robert Lee "Doc" Pinney; grandson: Kiel Wesley Day and brother: David Jordan.
The family will receive friends from 4:00 to 8:00 P.M. Thursday at the Hackman Chapel of Hackman Family Funeral Homes, 114 S. Nottawa St. in Sturgis where funeral services celebrating the life of Bertie Lou Nelson will held at 2:30 P.M. Friday. The Rev. Matt Taylor of the First Baptist in Sturgis will officiate.
A graveside committal will follow the service at Oak Lawn Cemetery in Sturgis.
The family suggests those wishing to make a memorial donation in Mrs. Nelson's memory consider the National Parkinson Disease Foundation P.O. Box 5018, Hagerstown, MD, 21741.
The obituary is also at www.hackmanfamilyfuneralhomes.com where we encourage relatives and friends to share memories and leave condolences for the family.