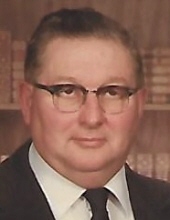 Burton Lee Waldron, age 93, of Sturgis, passed away early Sunday morning May 30, 2021 at Sturgis Hospital. He was born May 20, 1928 in Lansing, son of the late Edward Ernest and Alice Lucille (Bushnell) Waldron.
Burt resided in Sturgis since 1961 coming from Frankfort, Indiana.
On June 9, 1949 he married Frances Ann Robbins in Frankfort. She preceded him in death on March 21, 1988. On December 30, 1989 he married Mary Anne Krizan in Centreville and she preceded him in death July 7, 2014.
Burt was the Circulation Manager for the Indianapolis Star News; then moved to Sturgis to become the Circulation Manager for the Sturgis Journal; then founded, owned and operated Waldron Antique Auto Parts before retiring.
He was a longtime member of the Church of the Nazarene and attended the Christian Fellowship Center both in Sturgis.
Burt had a true appreciation for antique automobiles, loved animals and he always had a special dog or cat.
He is survived by two daughters; Donna (Bob) Holtz of Sturgis and Carol (Charles) Young of Three Rivers; two step-daughters: Valarie (Lon) Sommers of Three Rivers; and Jeannine Ballard of Centreville; two daughters-in-law: Cindy Waldron of LaGrange, Indiana and Tammy Waldron of Vicksburg; six grandchildren, 12 great grandchildren, 10 step-grandchildren, 14 step-great grandchildren and 1 step great great grandchild.
He was preceded in death by his parents, wives and two sons: Bruce Lee Waldron, 2016 and Edward Eugene Waldron, 2017.
In accordance with his wishes, cremation has taken place. No visitation or memorial services are planned. Private burial of the ashes will take place at the Nottawa Cemetery in Nottawa.
The Hackman Chapel of Hackman Family Funeral Homes or Sturgis is entrusted with the arrangements.
Burton has asked that, in his memory, you take a moment of quiet reflection, smile, hug your family and friends, do something nice for someone else and do your best to be kind to others.
The obituary is also at www.hackmanfamilyfuneralhomes.com where we encourage relatives and friends to share memories and leave condolences for the family.