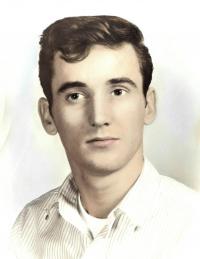 Jack Wayne Whitney, age 79, of Three Rivers, passed away peacefully at home on Thursday, June 10, 2021.
He was born in Bald Knob, Arkansas, on Jan. 9, 1942, the son of Roy H. and Leatha V. (Cullom) Whitney.
He was preceded in death by his parents; his brother and sister-in-law Roy H. Jr. & Martha Whitney; his brothers, Rex, Robert (Bob) & Johnny (John) Whitney; sister, Peggy Westra; and brother-in-law Grady Overton.
He is survived by his wife of 39 years, Barbara; brothers and sisters-in-law, Charles (Chuck) & Midge Whitney and Larry & Cindy Whitney; sister, Marion Overton; sister-in-law, Barbara Whitney; stepsons Everett (Ed) & Zenaida Miller, James (Jim) & Tammy Kelley and Robert (Bob) Kelley; many nieces and nephews; and good friends Les Huntington, Richard Hay, Jeff Price and John Alwine.
Jack enjoyed motorcycling and snowmobiling with his nephews John R. & John D. Overton and Don & Mike Overton.
Jack & Barbara also enjoyed the time and vacations they spent with their nieces, Leigh (Whitney) Colgrove and Catherine (Whitney) Brooks; and Jeff's sons, Wesley & Adam Price.
We thank Flowerfield Missionary Baptist Church for prayers, visits, food, gifts, cards and flowers, and to Bronson Burn & Wound Center (Kalamazoo) and Specialty Clinic (Three Rivers). We thank all of you who took care of Jack during his treatments.
Thank you to Hospice of Three Rivers for your time spent with Jack & Barbara keeping him comfortable.
Thank all of you again and God bless you.
In accordance with Jack's wishes, cremation has been conducted. Visitation will be held Saturday, June 26, 2021 at 10 a.m. at Flowerfield Missionary Baptist Church, 15525 Flowerfield Rd., Three Rivers. A memorial service will follow at 11 a.m. at the church with Pastor Josh Mullins officiating. Interment will be in Flowerfield Cemetery.
Donations in Jack's memory may be directed to Flowerfield Missionary Baptist Church, St. Joseph County Animal Rescue Fund or Three Rivers Hospice. Envelopes are available at Hohner Funeral Home in care of his arrangements.
Online condolences may be shared at www.hohnerfh.com.