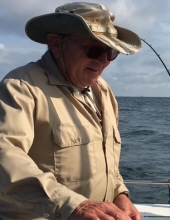 Philip W. Kulpinski, age 79, of Burr Oak, passed away unexpectedly Thursday, June 10, 2021 at his farm.
He was born July 8, 1941 in Sturgis, son of the late Bernard and Virginia (Sikorski) Kulpinski.
Phil was a lifelong Sturgis and Burr Oak area resident and a graduate of Sturgis High School with the class of 1960.
He had been employed by the Harter Corporation in Sturgis for 23 years working until the closing of the company. At that time he accepted a position with Pretty Prairie Farms in Howe, Indiana where he retired in 2006 following 10 years of dedicated employment.
Phil was a member of the Holy Angels Catholic Church in Sturgis and Eagles Lodge #1314. He enjoyed fishing, hunting and farming.
He is survived by one daughter: Michele Kulpinski Goetz of Blissfield; two sons: Max (Bernie) Kulpinski of Sturgis and Mark (Toni) Kulpinski of Huntsville, Alabama; four grandchildren: Samantha Moody of Coldwater, Eric Kulpinski of LaGrange, Indiana, Amy (Alessio) Giaccari of Shepherds Air Force Base, Texas and Beth (Justin) Vayda of Addison, Alabama; nine great grandchildren: Sophia, Kane, Charlotte, Sunny, Brooklyn, Brinley, Elena, Giorgia and Valeria; Four sisters: Patricia (Harold "Dean") Gump of Bronson, Mary (Dave) Herman of Bronson, Alice (Rob) Tullos of Howe, Indiana and Cecelia Kulpinski of Bronson; three brothers: Frank Kulpinski of Sturgis, Ray Kulpinski of Texas and Bernard (Penny) Kulpinski of Sturgis and many nieces and nephews.
He was preceded in death by his parents, sisters-in-law: Jan Kulpinski and Jean Kulpinski.
In accordance with his wishes cremation has taken place. A gathering of family and friends to celebrate and honor the life of Philip Wayne Kulpinski will be held at the family farm at a later date to be announced.
The Hackman Family Funeral Homes of Sturgis is entrusted with the arrangements.
The family suggests those wishing to make a memorial donation in Mr. Kulpinski's memory consider the Eagles Children's Fund, 1207 W. Chicago Rd., Sturgis, MI 49091.
The obituary is also at www.hackmanfamilyfuneralhomes.com where we encourage relatives and friends to share memories and leave condolences for the family.