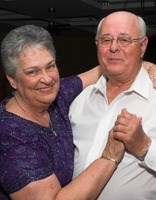 Sheldon Walter Fieberkorn, age 86, passed away on Sunday, June 6, 2021. He was born April 6th 1935, to Walter and Margery (Brown) Fieberkorn. He was baptized and confirmed at Salem Lutheran Church, Centreville. He worked at Kirsch for 44 years as a Factory and Trade Show Manager.
Juanita Jean Fieberkorn, age 84, passed away on Monday, June 7, 2021. She was born November 27, 1936, to Howard and Vaugh (Good) Hagen. She was baptized and confirmed at St. John's Lutheran Church, Burr Oak. She worked at Kirsch for 38 years.
Sheldon and Juanita were married on September 25, 1954 at Burr Oak Lutheran Church. They were members of Trinity Lutheran Church, Sturgis. They had four children; Mark Fieberkorn (Angie), Sturgis, Todd (Mary) Fieberkorn, Sturgis, Brad Fieberkorn, Sturgis, and Karla (John) Perry, Centreville. They had eight grandchildren; Jamie (Russ) Webster, Marine City, MI, Nicholas (Megan) Fieberkorn, Sturgis, Pastor Michael (Angela) Fieberkorn, St. Charles, MO, Kasie Fieberkorn, Kalamazoo, Aaron J. Fieberkorn, VT, Hagen Fieberkorn, Kalamazoo, Amberlie Fieberkorn, Tampa, FL, Samantha (Ryan) Brueck, Centreville, and Zachery (Kasara) Perry, Three Rivers. They have ten great grandchildren. Sheldon and Jean's greatest love was God, their children, grandchildren, and great grandchildren.
There will be a private family only graveside service at Oak Lawn Cemetery, Sturgis at a later date. No Flowers. Memorials to St. John's Lutheran Church, Burr Oak. Arrangements by Schipper Funeral Home, Colon.  Condolences may be left at Schipperfuneralhome.com.