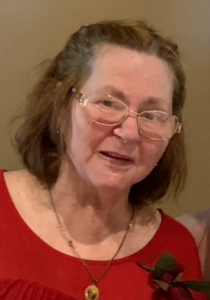 Beverly J McCann, age 75, of Niles, formerly of Constantine, died on Wednesday, July 7, 2021 at West Woods of Niles. She was born July 3, 1946 a daughter of Robert and Opal (Midaugh) Black. Beverly attended White Pigeon High School and received her GED from Centreville Schools. On December 17, 1966 she married Raymond E. McCann Sr. at the White Pigeon Methodist Church. He preceded her in death December 20, 2000. On July 4, 2009 she was united under God with Robert Smith.
Beverly had been employed at Mid America Wire in Middlebury, Box Shop in White Pigeon and in plastic manufacturing.
Surviving are her Husband Robert Smith of Niles, children Angela Green, Elkhart, Ann Marie (Shawn) Nusbaum, Constantine, Randall (Julie) McCann, Constantine, Raymond (April) McCann Jr., Michigan, Diana (Saul) Mejia, Niles, Molly (Dayton) Newcomb, Alabama, Donna (Richard) Kerby, Bristol, IN, Jared (Jovita) Smith, LaPorte, IN, grandchildren, Steven Wissler, Justin Wissler, Mariah Dominquez, Gabrielle Green, Ashley McCann, Ray McCann III, Travis McCann, Austin McCann, Miranda McCann, Tysyn McCann, Cody Jackson, Thomas Kerby, Michael Kerby and Christopher Kerby II, 16 great grandchildren, and sister Judy Lammers.
Beverly was preceded in death by her parents, husband Raymond McCann Sr. and brother Doug Black.
Relatives and friends will be received Tuesday from 12 to 3 pm at Eley Funeral Home in Constantine. Religious services will follow at 3 PM Tuesday with Pastor Mark Youngberg, First Baptist Church of Niles officiating. Burial will be in Constantine Township Cemetery.
Please visit www.eleyfuneralhomes.com to sign Beverly's guest book and leave a message for the family.