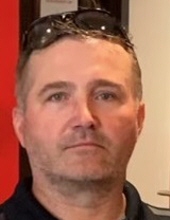 Florin Gavril Olarean, age 47, of Sturgis, passed away Tuesday afternoon, July 20, 2021 in White Pigeon Township due to injuries sustained in an automobile accident.
He was born May 14, 1974 in Marginea, Suceava, Romania son of Ion and Aurelia (Maitian) Olarean.
Florin came to the United States in 1990 and resided in Sturgis since 1997, coming from Colon.
On July 14, 2001 he married Ana Bodnarescu in Marginea, Suceava, Romania.
Florin was a skilled mechanic and employed by Metal Technologies in Three Rivers.
He was a member of the St. Elias Eastern Orthodox Church in Battle Creek. He enjoyed playing golf and archery.
Florin is survived by his wife: Ana; one son: Michael Olarean of Sturgis; one daughter: Alexis Miller of Wolcottville, Indiana; two grandchildren: Bellamy and Brennlee; mother and step-father: Aurelia and Vasile Pietrarariu of Sturgis; father: Ion Olarean of Romania; grandmother: Olinpia Maitian; two sisters: Christina Pietrariu of Sturgis and Rodica Hompoth of Clinton Township; three brothers: Derek Alexander of Howe, Indiana, Cristian Pietrariu or Sturgis and Adrian Pietrariu of California; Ana's family who he loved and who loved him dearly and many nieces and nephews.
The family will receive friends from 4:00 to 7:00 P.M. Friday, July 23rd at the Hackman Chapel of Hackman Family Funeral Homes, 114 S. Nottawa St., Sturgis, MI 49091, 269-651-2331 where the Panikhida memorial service will begin at 7:30 P.M. Friday. The Funeral service will be celebrated at 9:00 A.M. Saturday at St. Elias Eastern Orthodox Church, 5066 B Drive S, Battle Creek, MI. The Very Rev. Archpriest Lawrence Bacik celebrant. A graveside committal will follow the service at Oak Lawn Cemetery in Sturgis.
Memorial donations would be appreciated to the family c/o: Ana Olarean for Michael's future educational needs.