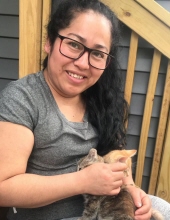 Gloria I. Gonzalez, age 42, of Sturgis, passed away early Sunday morning, July 18, 2021 at her home.
She was born May 15, 1979 in Acambaro, Mexico daughter of Gerardo Gomalez Granados and Eustolia Irene Hernandez Portillo.
The family will receive friends from 4:00 to 7:00 P.M. Wednesday at the Holy Angels Catholic Church in Sturgis where a vigil service will begin at 7:00 P.M. Wednesday. The Funeral Mass celebrating the life of Gloria I. Gonzalez will begin at 5:00 P.M. Thursday at the Holy Angels Catholic Church. The Rev. Father Raul Gomez will officiate. Following the Mass Gloria will be transported to to Acambaro, Mexico for services and burial at the Pention Jardines de Acambaro Cemetery in Acambaro, Mexico.
The Hackman Family Funeral Homes of Sturgis is entrusted with the arrangements.