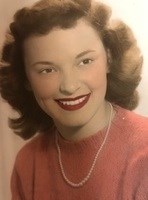 Rosemary Findlay, age 91, of Athens, Georgia and former Sturgis resident, passed away in Athens, Georgia on March 12, 2020.
Rosemary was born on March 9, 1929 in Decatur, Illinois to Mary (Riney) and William J. Stapleton. Rosemary was William and Thomas Stapletons' older sister. During childhood Rosemary lived in Illinois (Illiopolis, Bellville and Champaign) and Michigan (Ann Arbor and Sturgis). Following graduation from Sturgis High School with the class of 1947, she attended St. Mary's College in South Bend, and later graduated from Western Michigan University. She and her first husband, Donald Kane, had two children, Kristine Kane Carr and Michael Kane. She subsequently married Dr. John (Jack) O'Dell and moved to Three Rivers. Following his death, she married James Findlay and became mother to his sons, Steven and Daniel. Rosemary and Jim lived in Three Rivers, then Des Moines, Iowa before retiring in Hendersonville, North Carolina where they were surrounded by the Southern Appalachian Mountains. She spent her last years living in Athens, Georgia near one of her children.
Hers was a full and impactful life. She enjoyed many things such as good friends, travel, fashion, home decorating, gardening, dogs and cats but above all she enjoyed family. Rosemary dedicated herself to numerous jobs including teaching elementary school, serving as managing editor for the Sturgis Journal, co-owning and managing a consignment store, and serving as an administrative assistant in the Iowa State Legislature.
She Is survived by her husband, James Findlay, brother, Thomas Stapleton (Marcia), four children, Kristine Kane Carr (Larry); Steven Findlay (Caron); Michael Kane (Lida); and Daniel Findlay (Melissa); nine grandchildren, Sarah Findlay Jaeger (Jeffrey); Maureen Carr (Mark Johnson); Nathan Findlay; Meghan Carr Horrigan (Kevin); Benjamin Findlay (Kaelyn); Zachary Findlay; Colleen Carr Fields (Adam); Andrew Kane; and Kathleen Kane; and ten great-grandchildren.
She was preceded in death by her parents, husband, and brother William and his wife, Joan Stapleton.
A memorial Mass celebrating the life of Rosemary Findlay will be held at 11:00 A.M. Friday, July 23rd at the Holy Angels Catholic Church in Sturgis. The Rev. Father Andrew Raczkowski will officiate. A graveside committal will follow the Mass at Oak Lawn Cemetery in Sturgis.
The Hackman Family Funeral Homes of Sturgis is assisting the family with local arrangements.