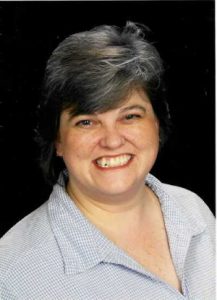 Sheila Mahalko, age 52, of Goshen, passed away on June 27, 2021 at her home.  She was born in Kalamazoo on September 24, 1968, a daughter of Bernie and Janice (Reitenour) Cowgill.
Sheila graduated from Wayne High School in Nebraska and went on to earn her Bachelor's Degree from Mid-America Nazarene University in Olathe, KS.  She then went on to receive her Master's Degree in Librarian Studies from Dominican University in Chicago.  She also completed an understudy at Augustana in Sioux Falls, SD.  She previously worked for Costco in Chicago, AMC Theatre in Kansas, and the Starke County Library.  Sheila retired as assistant librarian from the Elkhart County Library after several years of employment.
On March 28, 2015, she married Ron Mahalko in Schoolcraft. Sheila loved to knit, being especially passionate about making baby blankets.  She loved music, but most of all, she cherished the time she got to spend with her husband Ron, beautiful nieces and nephews, and extended family.  She always put everyone else's needs and wants ahead of herself.   Sheila was a very strong woman and battled her cancer like a true warrior.  She taught everyone how to go through the battles and struggles of life without complaining.  Sheila always told Ron that it didn't matter what they were doing, but as long as they were together, she was as happy as she could be.
Surviving are her loving husband Ron Mahalko of Goshen, step-father Don Weaver of Portage, brother Steven (Alece) Cowgill, brother David (Tammy) Cowgill, sister Amy (David) Leveille, close aunt Pam Cowgill, and several other aunts, uncles, and beautiful nieces and nephews.
She was preceded in death by her parents Bernie and Janice, uncle Jeff Reitenour, uncle John Reitenour, aunt Bonnie Cowgill, and niece and nephew Audrey and Steven Cowgill.
According to her wishes, cremation has taken place. Friends and relatives will be received on July 17, 2021 from 12 to 1 PM at Centreville Baptist Church (115 E. Burr Oak St., Centreville, MI 49032).  A memorial service will follow at 1:00 PM with Pastor Dave Peterson officiating.  Interment will occur in Prairie River Cemetery, Centreville.
Memorial contributions can be given to the family, c/o Ron Mahalko, to help with expenses, or to Shriner's Hospitals for Children.
Arrangements were entrusted to Eley Funeral Home, Centreville.   Please visit www.eleyfuneralhomes.com to sign Sheila's online guestbook and to leave a message for the family.