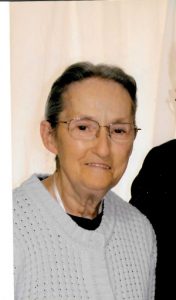 Elizabeth "Betty" Chupp, age 89, of Constantine, went to be with the Lord on Tuesday, August 17, 2021 at her home.  Betty was born on February 15, 1932 in Rogers, ND, a daughter of Ruben and Amanda (Bontrager) Yoder. On April 5, 1951, she married Paul Chupp; he preceded her in death on May 27, 2015.
Betty loved being a homemaker and spending time at her home.  She enjoyed embroidery, reading, music, bird watching, and her flowers and flower beds.  Betty was a member of Calvary Chapel in Sturgis, and continued her ministry by grading GET Bible lessons for the Gospel Echoes Prison Ministry.  Betty was a very thoughtful, loving woman, and was known for the thousands of greeting cards she sent to her family and friends.
Surviving are her children Ruben (Idella) Chupp of Nappanee, Marcus (Mamie) Chupp of Constantine, Faith Ann (Menno, Jr.) Stauffer of Constantine, and Pauline (Elmer) Yoder of Middlebury; 13 grandchildren; 38 great grandchildren; and numerous nieces and nephews.
She was preceded in death by her parents and husband.
Relatives and friends will be received Friday, August 20 from 3 to 7 PM and Saturday, August 21 from 9 to 10 AM at Calvary Chapel in Sturgis.  A religious service will follow on Saturday, August 21 at 10 AM.  Interment will be in Oak Grove Cemetery.
In lieu of flowers, memorial contributions can be given to Gospel Echoes Prison Ministry (PO Box 555, Goshen, IN 46527 or www.gospelechoes.com/donate/).
Arrangements were entrusted to Eley Funeral Home, Constantine.  Please visit www.eleyfuneralhomes.com to sign Betty's online guestbook and to leave a message for the family.