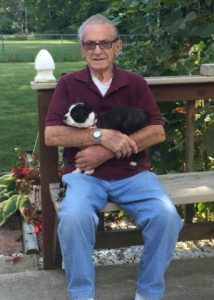 Elmer F. Stuth Jr., age 93, of Round Rock, Texas and formerly of Colon, passed away Monday, August 23, 2021 at Sundara Senior Living.
Elmer was born on June 11, 1928 in Chicago, a son of the late Elmer and Anna (Jarzynski) Stuth.
Elmer attended and graduated from Farragut High School in Chicago. After graduation Elmer served his country in the United States Army.
Upon exit from the Army, Elmer settled in Chicago and raised his family.
On September 13, 1980, Elmer married Sharon Majors in Cicero, and she would precede him in death on March 27, 2012.
Elmer loved gardening, fishing, and spending time with his beloved dogs, He was handy and loved helping his neighbors with projects. He peacefully lived out his later years in Colon.
Elmer is survived by his two sons: Dennis Stuth of Illinois, and Thomas (Maggie) Stuth of Illinois, his daughter Jennifer (Eric) Scheinfeldt of Texas, and one grandchild Taryn Stuth.
Besides his parents and his wife Sharon Elmer was preceded in death by a sister Dorothy Hoffman.
The Stuth family will receive friends and relatives on Sunday, August 29, 2021 from 2 to 5pm at the Schipper Funeral Home. A funeral service will take place Monday, August 30, 2021 at 11:00am also at the funeral home with Rev. David J. Farrell officiating. Interment will follow at Lakeside Cemetery.