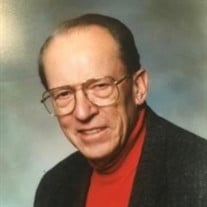 Lawrence R. Collins, age 92, passed away Wednesday, June 16, 2021, in Rogers, Arkansas. He was born November 29, 1928, in Sturgis to Richard and Anna (Straehly) Collins. He was preceded in death by his parents, and brothers, Richard A. Collins and Robert Collins.
Larry graduated from Sturgis High School, earned his BA from Albion College, and his MA from George Washington University (Washington, DC). He served in the United States Navy and with the Central Intelligence Agency. After retiring he became a registered gemologist and enjoyed working with Overstreet's Jewelry in Bentonville, Arkansas. Larry was a member of the Central United Methodist Church in Rogers. He volunteered in the Crystal Bridges Library and enjoyed over 1,000 hours at the Mercy Hospital Information Desk. Larry loved his family, his friends, and—of course, his Shih Tzu, Mimi.
Lawrence is survived by his wife, Marilyn Harris Wilson Collins; half-brother, Tom Collins; children Catherine Richmond and Kyle Collins; blended children Grant Wilson and Mark Wilson; grandchildren Marcie Richmond and Benjamin Richmond, Crystal Collins, Robert Collins, Ian Collins; blended grandchildren Alex Wilson, Candice Brittany Wilson Brown; great-grandchildren Symphony, Katie, Maddy, Corbin, Lexi, and Lawrence Collins, blended great-grandchildren Ryan, Taylor, and Avery Wilson, Julianne and Everett Brown. His sisters-in-law are Barbara Harris Youree and Shirley Harris Park, brother-in-law Dean Park.
A Celebration of Life will be held in the Central United Methodist Church Chapel, Rogers, on August 12, at 10:30 am in the Chapel, 2535 West New Hope Road, Rogers, Arkansas.
To help prevent the spread of COVID 19, we request that all guests wear a mask. Thank you.
Arrangements are made with Nelson Berna Funeral Home. To place an online tribute, please visit www.bernafuneralhomes.com.