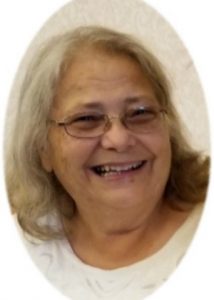 Rebecca Ruth Mitchell, age 68, of Centreville, is now in the presence of the Lord Jesus whom she loved and served with passion. She passed away on Saturday, August 21, 2021 at Bronson Methodist Hospital.
Rebecca was born on January 18, 1953 at home in Centreville, a daughter of the late Hubert LeRoy and Laura Marie (Mishler) Rhinesmith.
Rebecca graduated from Colon High School with the class of 1970. On December 27, 1975 she joined hands with her husband of 45 years, Kevin Mitchell, at the Victory Chapel in Sturgis. Rebecca and Kevin have resided in their home for the last 42 years.
Rebecca is survived by her husband Kevin Mitchell of Centreville, children: Hannah Mitchell of Centreville, Daniel (Christina) Mitchell of Three Rivers, Esther (Daniel) Neff of Vicksburg, Samuel (Kasondra) Mitchell of Leonidas, Elizabeth Mitchell of Centreville, and Joseph (Krista) Mitchell of Sturgis, siblings: Gloria Ganger, Sharon Rhinesmith, Charles (Sheryl) Rhinesmith, and Janelle Graber, grandchildren: Andrew Mitchell, Abigail Mitchell, Elyssa Mitchell, Makenzie Mitchell, Jeremiah Mitchell, Kylee Neff, Ashlyn Mitchell, Gracey Loker, Raegan Holtz, Karyssa Holtz, Michael Hnatiuk and another Mitchell on the way, Ella Mitchell, Lydia Mitchell, Atalia Mitchell, and another Mitchell on the way, and several nieces and nephews.
Rebecca was preceded in death by her parents.
The Mitchell family will receive friends and relatives on Wednesday, August 25, 2021 from 12-noon to 3 PM and 5 to 8 PM at the Moorepark Community Church near Three Rivers. A funeral service celebrating the life of Rebecca will take place on Thursday, August 26, 2021 at 11 AM also at the Moorepark Community Church with Pastor LeRoy Detweiler officiating. Interment will follow in Leonidas Cemetery. Condolences may be left for the family at Schipperfuneralhome.com.